Kansas City's Top 10 Best Wedding Hair & Makeup Artists (2020)
by Chris
October 24, 2020
EDITOR'S CHOICE: We've handpicked the best of the best Wedding Hair and Makeup artists in Kansas City, MO to help you pick the right one for your big day.
If you're residing in the Kansas City area and haven't found the perfect bridal beauty team, you're in luck. We've shortlisted some of the top tier artists available in the area with trusted bridal beauty teams to get you glammed for your big day.
These artists are your source for the latest flawless and long-wearing bridal makeup and hair. Keep your stress levels at an all-time low and leave it to these professionals. From on-site teams to studio setups, enjoy your bridal session, and get ready in style and comfort. 
Whether you want to look like yourself at your wedding or want a full makeover, these experienced teams will make sure your day goes smoothly with every detail covered for a fun and exciting wedding day!
As a licensed cosmetologist in both Missouri and Kansas, Sophia started Graceful Beauty KC with her passion for bridal makeup artistry and hairstyling. With a focus on personalized beauty services that are catered specifically to your needs, she delivers new skills and techniques using only the best beauty products. Her team of licensed beauty professionals is her helping hands for seamless makeup and hair that you'll fall in love with.
Address: 8560 N Green Hills Rd #122, Kansas City, MO 64154
Phone: (816) 517-6383
Instagram: Graceful Beauty KC
Facebook: Graceful Beauty KC
Profile: Graceful Beauty KC
---
Contact : Sophia
Contact :
Sophia
If you're looking for a team of award-winning professional airbrush tanning, makeup artists, and hairstylists- Fix Beauty Co is exactly what you're looking for. The beauty team has over 15 years of combined experience in print, television, runway, and bridal makeup- making the experience of your wedding day glam run very smoothly. With in-studio and on-location bridal services, the experts are ready to take care of every detail for your makeup and hair so you can have exactly the look you've been obsessing over.
Address: 13847 Mohawk Rd #1603d, Overland Park, KS 66224
Phone: (816) 875-0371
Instagram: Fix Beauty Co.
Facebook: Fix Beauty Co.
---
Contact : Jessica
Contact :
Jessica
With her passion for makeup artistry flourished since 2008, founder and owner of Devine Makeup Artistry Lora Devine is an award-winning makeup artist who's worked for multiple luxury cosmetic brands along with video and print publications. She has an eye for detailing makeup to perfection for HD photography, your wedding day makeup should look flawless all day since you'll have a camera following you around the entire time. Using the right techniques and application methods will go a long way toward the final result.
Address: 6 NW 90th Pl Kansas City, MO
Phone: (816) 668-6061
Facebook: Devine Makeup Artistry
---
Contact : Lora
Contact :
Lora
Originated by Ashley Backs, Hello Lovely is a place for all thing's beauty for bridals. Since 2013, the glam team has worked on hundreds of on-site brides along with clients at their dedicated bridal studio located in Kansas City. With their straight forward bridal packages available for your wedding budget, each of the 3 packages can be customized for parties of all sizes. Each artist has had continued training and education with 12+ regular artists that work together regularly.
Address: 416 E 3rd St, Kansas City, MO 64106, United States
Phone: (816) 200-2406
Instagram: Hello Lovely Hair & Makeup
Facebook: Hello Lovely Hair & Makeup
Profile: Hello Lovely Hair & Makeup
---
Contact : Ashley
Contact :
Ashley
Whether you've envisioned yourself to be a boho, chic, or glam bride on your wedding day, Angie Campbell and her team at AW Wedding & Co. can bring your picture-perfect makeup and hair to life. The team provides professional, affordable makeup applications and hairstyling services on location. With online booking available at your fingertips, their services include trial sessions, bridal portraits, and extended bridal party makeup with hair.
Address: Kansas City, MO
Phone: (469) 258-3430
Instagram: AW Wedding & Co.
Facebook: AW Wedding & Co.
Profile: AW Wedding & Co.
---
Contact : Angie
Contact :
Angie
As a convenient mobile makeup and hairstyling salon available for all brides and bridal parties, Mallory Nicole founded Paradise in 2013. Her goal was to fulfill her lifelong dream of having her own beauty company to serve not just makeup and hair but along with tanning services at her studio. Paradise experts tailor your beauty needs to your features, mood, and lifestyle.
Address: 8636 North Boardwalk Ave Suites 3 & 4, Kansas City, MO, 64154
Phone: (816) 920-0040
Instagram: Paradise Hair, Makeup, & Airbrush Tanning
Facebook: Paradise Hair, Makeup, & Airbrush Tanning
---
Contact : Mallory
Contact :
Mallory
A full-service salon that offers everything you need for your wedding day makeover. Founded by Amy Crouch, the master stylist and makeup artist have established her career in the beauty and fashion industry for 17 years. Her creativity flourishes with bridal looks to create a unique makeover to compliment your facial features. Located in Kansas City's Westport area, Antidote offers facials, haircuts, color, blowouts, artificial lashes, and body waxing along with bridal makeup and hairstyling.
Address: 211 Westport rd Kansas City, KS
Phone: (816) 756-5606
Instagram: Antidote Hair Salon and Beauty Bare
Facebook: Antidote Hair Salon and Beauty Bare
Profile: Antidote Hair Salon and Beauty Bare
---
Contact : Amy
Contact :
Amy
From your engagement photoshoot to your grand entrance, the makeup team at 7th Row has over 15 years of experience with some well-renowned publications and videography in the country. Owned by Staci, as a professional makeup artist, she's had experience working for camera-ready makeup to bring out a flawless look to her clients. Her talented team of artists will plan out every detail of your bridal look to look gorgeous in front of the camera.
Address: Kansas City, MO 64155
Phone: (816) 734-8241
Instagram: 7th Row Productions
Facebook: 7th Row Productions
Profile: 7th Row Productions
---
Contact : STACI
Contact :
STACI
For the most elite bridal team of talented artists in Kansas City, White Carpet Bride is the luxury makeup and hair company spot in the city. To get ready for your wedding day, the bridal team offers exceptional services to help you with every step on your wedding day. From your consultation session to the final look, you'll be leaving with a timeless and flawless makeup look that will far from disappoint. The team specializes in bridal beauty that's current with the latest trends and applications.
Address: 1625 Oak Street Suite 203, 64108 Kansas City
Facebook: White Carpet Bride
Profile: White Carpet Bride
---
Contact : Mikayla Crane
Contact :
Mikayla Crane
Founded by Barbara Hill in 2001, Bridal Artistry is a team of on-site professional makeup artists and hairstylists serving weddings to create exceptional memories. Lead makeup artist Lisa Hoskins has over 20 years of experience working with brides to create photo-ready makeup looks. From initial contact to the first trial consultation, the beauty team is equipped to bring you your desired hair and makeup look.
Address: Kansas City, MO
Phone: (913) 583-0747
Instagram: Bridal Artistry
Profile: Bridal Artistry Kansas City
---
Contact : Lisa Hoskins
Contact :
Lisa Hoskins
Conclusion
Your wedding day glam requires a dream team of artists and stylists that will transform you into a glamourous bride. The right team will make you feel stunning, radiant, and comfortable for your event. Get the precise look that you want with our list of the best makeup artists and hairstylists in Kansas City. For dashing results with high-quality makeup and hair products with professional techniques, these are some of the top tier experts that you'll come across.
Is your business featured in this article?
Copy the code below and place the code on your website to display the badge award on your website.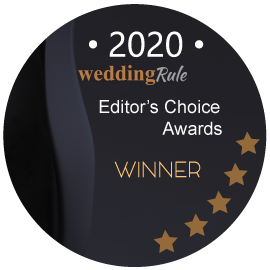 Chris is the lifestyle writer and has been the head of content at WeddingRule for the past 4 years.