Top 10 Wedding Florists in Kansas City, MO (2020)
EDITOR'S CHOICE: We've handpicked the best of the best wedding florists in Kansas City to help you pick the right one for your big day.
For couples planning an amazing wedding, stunning flowers are a must. To help you in your search for the best wedding flowers in Kansas City, we have put together a list of the top 10 florists in the city.
Each of these businesses will look after your needs and make sure your flower arrangements are like no other.
With a pure and elegant style, The Cottage Rose has transformed their floral design business into a vehicle for artistic expression. For those with impeccable taste and high standards, The Cottage Rose is Kansas City's best floral studio.
They are involved in your planning process and coordinate with your other teams to make sure that everything goes as smoothly as possible. As a client, you are their priority. The Cottage Rose will respect your vision and keep to your budget. 
If you have questions, reach out to them through their website contact form. You can also get in touch via email and phone.
Address: 2016 Baltimore Ave Suite A Kansas City, MO 64108
Phone: 816-287-0361
Social: The Cottage Rose
---
Contact : Ferrell Richardson
Contact :
Ferrell Richardson
Their fresh and modern designs will leave all you and your guests in awe. Surely, no one will ever forget the beauty of your special day. Studio Dan Meiners makes sure all their flowers are of the highest quality. 
They boast over 20 years of experience in the business and are proud that their designers are always so innovative, and their artistic passion drives them to exceed all expectations. You can contact them through the website contact form or give them a call.
Address: 2500 West Pennway St Kansas City, MO 64108
Phone: 816-842-7244
Social: Studio Dan Meiners
---
Contact : Dan Meiners
Contact :
Dan Meiners
A friendly team of floral designers is there to listen to you and your wishes. Lily Floral Designs wants to make sure that your flower arrangements reflect who you are and present your love in the best way possible.
They have a simple three-step process. First, you present your ideas, and they offer you a custom proposal. After this, you have an in-person consultation to ensure everything is just right. Finally, you can enjoy your perfect day, with no need to worry about the flowers.
Their website has a contact form where you can even hint at your budget, so they're in the loop from the start. You can also contact them through email.
Address: 647 E 59th St Kansas City, MO 64110
Phone: 816-239-0502
Social: Lily Floral Designs
---
Contact : Lily Williams
Contact :
Lily Williams
Trapp and Company offer incredible floral arrangements that will make your wedding truly memorable. And they have done so for the last 50 years!
There is nothing that shows better dedication than maintaining such a long tradition. They have mastered the art of floral arrangement and honed their customer service skills to perfection.
Owner Bob Trapp honed his floral design skills from a very young age and knows all there is to know about creating the perfect experience for you. If you want to get in touch, call them or send them an email. 
Address: 4110 Main St Kansas City, MO 64111
Phone: 816-931-6940
Social: Trapp and Company
---
Contact : Bob Trapp
Contact :
Bob Trapp
They have the experience and knowledge to handle flowers with the care and love it deserves. Sidelines understand that flowers make people happy, and they are there to bring out beautiful emotions with their floral arrangements. 
Sidelines are offering floral design for your every need. From personal flowers to reception arrangements, they know exactly what you might want. And however small or large your special day is, they will be there for you. You can schedule a consultation directly on their website or contact them via email or phone.
Address: 511 E 135th St Kansas City, MO 64145
Phone: 816-941-8814
Social: Sidelines Custom Floral Designs
---
Contact : Karyn Brooke
Contact :
Karyn Brooke
Focusing on lavish designs that are eye-catching and luxurious, Botanical Floral Design offers only those arrangements that speak of you.
Their flowers are international as well as local, which means they can accommodate a variety of styles and themed weddings. From simple to high-end, from classic to out-of-the-box, Botanical Floral Design knows how. Contact them through the website contact form or via email and phone.
Address: Kansas City, MO
Phone: 913-938-3612
Social: Botanical Floral Design
---
Contact : Matt
Contact :
Matt
When you couple Beco's Flowers' experience with your ideas, you get amazing floral arrangements and a smooth process. Beco Flowers is with you every step of the way, making sure you are happy and ready to enjoy your perfect day.
Start with a free consultation by bringing all the resources you can to show them exactly what you want. As each wedding is unique, they will provide you with a budget worksheet that will help you clearly see your flower budget.
Their designs are simple and clean, letting the flowers speak with their freshness and beauty. If you want to get in touch, you can contact them via phone or email. 
Address: 1922 Baltimore Ave, Kansas City, MO 64108
Phone: 816-472-4242
Social: Beco Flowers
---
Contact : Rebecca Ederer
Contact :
Rebecca Ederer
Dedicated to making your dreams a reality, J. Smith Events love designing stunning floral creations. They offer only premium flowers that are as fresh as they come. 
With their floral arrangements, your wedding will be remembered for a long time. Being one of the best in Kansas City, it is no surprise that they have great customer service, focusing on you and your ideas.
A detailed scheduling form on their website is there for your convenience. Once they have all the information they need, you are ready to start the fun part – talking flowers! For any questions, you can contact them via email or phone.
Address: Kansas City, MO 64111
Phone: 573-465-4046
Social: J. Smith Events
---
Contact : Justin
Contact :
Justin
Shelley Rundberg is the owner of this amazing floral design studio. She is inspired and has one goal in mind – to create a perfect floral experience you will never forget. 
You need a unique mind for one-of-a-kind designs, and Shelley offers just that. As a floral artist, she pours her love and passion into every creation, but she will always ensure that every flower represents you and your style.
She knows just how stressful floral planning can be, and she is there to help you focus only on what's important. You can contact her via phone.
Address: Kansas City, MO 66111
Phone: 816-491-9734
Social: Couture Wedding Flowers
---
Contact : Shelley Rundberg
Contact :
Shelley Rundberg
Currently owned by Clara Bauer, Clara's Flowers is a family-owned company that boasts over a century of happy brides and grooms behind them. A highly personal approach ensures your floral arrangements are tailored to you and your special day. 
Their website offers a full range of prices for all your floral needs, and with bridal bouquets starting at $80, they are suitable for any budget. And while you're on the website, read the amazing testimonials left by their happy clients. You can contact Clara's Flowers through their contact page or via phone and email.
Address: 827 E 83rd St Kansas City, MO 64131
Phone: 816-523-3323
Social: Clara's Flowers
---
Contact : Clara Bauer
Contact :
Clara Bauer
Conclusion
We have done our part. Now you get to do yours. 
It's a part of a lifetime – becoming happily married. But there's no acting involved here. You just get to be you and enjoy your perfect day surrounded by loved ones and the prettiest floral arrangements. No matter which florist you choose from this list, you can sure of top-notch customer service and amazing flowers that you will remember forever.
Is your business featured in this article?
Copy the code below and place the code on your website to display the badge award on your website.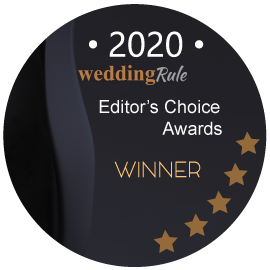 Emma is the client services manager at WeddingRule.com. She has previously worked with Australia's biggest weddings website, Wedding Diaries.