10 of the BEST Wedding Venues in Dallas TX (2020)
EDITOR'S CHOICE: We've handpicked the best of the best Wedding Venues in Dallas TX to help you pick the right one you'r big day.
Wedding planning isn't always easy. There are so many different things to take into consideration, such as venues, officiants, photographers, and caterers. You may be feeling somewhat overwhelmed with the sheer number of items on your checklist. Choosing a wedding venue that aligns with your vision, budget, and the guest list should be a fun process.
We've put together a list of the top 10 wedding venues in Dallas, Texas, to help you ease that overwhelming feeling and find an ideal site for your wedding day.
Barnett Estates is a rustic and elegant venue with country scenery. It has all-inclusive wedding packages featuring wedding cake, flowers, catering, DJs, and transportation. The team at Barnett Estates aims to give you an incredible wedding with its affordable pricing and superb service. There are two wedding packages to choose from that include all-inclusive options and everything you will need to make your wedding day a complete success. One of the featured spaces at Barnett Estates is the log barn with crystal chandeliers. This country setting would be an excellent choice for couples looking to get away from the big city for their special day.
Style: Rustic
Price: Contact For A Quote
Address: 5877 Barnett Road, Krum, TX
Phone:  (940) 600-6058
Profile: Barnett Estates
---
Contact : Barnett Estates
Contact :
Barnett Estates
If you're in search of a venue with indoor and outdoor options, Stone Crest Venue is an exceptional choice. This venue has a stunning outdoor space for ceremonies with picturesque views of the countryside that accommodates 275 guests. The indoor service and reception space has gorgeous views of the sunset and features rustic and industrial architecture with a stone fireplace. Your wedding package includes the use of the venue, ceremony site, four entertaining outdoor areas, tables, wooden chairs, up-lighting, hand-carved cedar ceremony benches, wooden display tables, yard games, and a state-of-the-art sound system.
Style: Rustic, Modern, and Industrial
Price: Prices Start At $6,000
Address: 160 Rockcrest Road, McKinney, TX
Phone: (972) 544-6848
Social: Facebook
Profile: Stone Crest Venue
---
Contact : Stone Crest Venue
Contact :
Stone Crest Venue
Hawthorn Hills Ranch is an incredible option for couples in search of a romantic venue with customized wedding packages. The staff enjoys working with couples to ensure they receive an affordable pricing package that checks every item off their list. Hawthorn Hills Ranch has an open floor plan with a charming water feature. The outdoor ceremony space is located on the hillside and features sprawling country views, a waterfall, a pond, and a lovely arbor. The Ranch has a maximum capacity of 250 guests in each of the captivating spaces on the property. 
Style: Modern
Price: Prices Start At $4,250. Call For a Customized Quote.
Address: 10340 Jackson Rd, Krum, TX
Phone:  (940) 600-7838
Social: Facebook
Profile: Hawthorn Hills Ranch
---
Contact : Hawthorn Hills Ranch
Contact :
Hawthorn Hills Ranch
Verona Villa is a full-service Mediterranean-style venue with fully customizable spaces for your ceremony and reception. There is a professional wedding planner on-site that can help with every aspect of planning. This Dallas wedding venue has landscaped grounds with country gardens, wrought iron accents, and two indoor spaces for your ceremony and reception. The indoor areas have chandeliers, tall ceilings, and beautiful staircases. The Villa can accommodate 250 guests in their indoor and outdoor spaces. You could hold your ceremony on the patio surrounded by lush landscaping, gardens, and fountains, and then move the reception indoors to the Grand Hall.
Style: Elegant
Price: Contact For A Quote
Address: 6591 Dallas Parkway, Frisco, TX
Phone: (972) 837-8034
Social: Facebook
Profile: Verona Villa
---
Contact : Verona Villa
Contact :
Verona Villa
If you're looking for an industrial wedding venue with plenty of eclectic charm, The Eagle Historic Warehouse is an excellent option. This historic building has exposed ductwork, vaulted ceilings, exposed brick, and concrete floors. It serves as a blank canvas to allow you to decorate and create a stunning space for your wedding day. This space is ideal for up to 250 guests for your ceremony and reception. Picturesque views of the Texas countryside surround the wedding venue. The Eagle Historic Warehouse has affordable pricing packages for every day of the week.
Style: Industrial
Price: Prices Start At $625
Address: 116 E. Franklin St., Hillsboro, TX
Phone:  (254) 307-0075
Social:  Facebook
Profile: The Eagle Historic Warehouse
---
Contact : The Eagle Historic Warehouse
Contact :
The Eagle Historic Warehouse
If you're in search of a venue surrounded by nature, Magnolia Terrace is an excellent option. This venue is nestled in a charming garden with modern amenities. The garden has been designed with weddings in mind and offers incredible views of a waterfall, pond, grapevines, and a bridge. The venue is lit at night with beautiful string lights. Your wedding package includes exclusive use of the entire site, ceremony decorations with stone pillars and white chairs, your choice of reception tables, accent linens, selection of vendors with no additional fees, a wedding coordinator, the option to bring your own beverages, use of the stone bar and prep kitchen, and use of the bridal suite. This enchanting wedding venue near Dallas has affordable pricing packages to suit every budget.
Style: Garden
Price: $3,500 – $4,500
Address: 6910 Pecan Street, Frisco, TX
Phone:  (214) 872-1947
Social:  Facebook
Profile: Magnolia Terrace
---
Contact : Magnolia Terrace
Contact :
Magnolia Terrace
A luxury hotel with all of the style and class of an elegant wedding venue, the Warwick Melrose beautifully combines vintage 1920s glamor with all of the modern comforts. The antique details and gorgeous gold-trim make this a wonderful place for couples of all personalities. Perfect for weddings of all sizes, event spaces are designed to suit anything from 30 to 300 guests. Convenient for accommodation and reception, the team at the hotel will cater to anything needed to make the event perfect.
Address: 3015 Oak Lawn Avenue, Dallas, TX
Phone: (214) 224-3153
Social: Facebook
Profile: Warwick Melrose Hotel
---
Contact : Warwick Melrose Hotel
Contact :
Warwick Melrose Hotel
A flexible warehouse wedding venue that can be dressed in any custom style a couple would like for their special day, sixty five hundred has 20,000 square feet of space to host grand events of up to 1,000 guests. Originally a General Electric warehouse from the 1950s, every space has been upgraded and restored to perfection. To give couples exactly what they want, the venue has multiple reception space, modern comforts, and plenty of on-site furniture to give everyone absolute comfort throughout the day.
Address: 6500 Cedar Springs Rd Suite 200, Dallas, TX 75235
Phone: (214) 999-0061
Social: Facebook
Profile: sixty five hundred
---
Contact : sixty five hundred
Contact :
sixty five hundred
A blank canvass to shape and customize to suit every personality and style, Nuvo Room is a modern wedding venue that is specifically designed to give couples complete flexibility for their special day. With over 5,000 square space to work with, there is enough room to accommodate parties of 300 guests with comfortable seating and lounge space. The stylish base decor and modern lighting options make this the perfect location for celebrations after the big "I do".
Address: 4241 Sigma Rd suite b, Dallas, TX 75244
Phone: (469) 453-4563
Social: Facebook
Profile: Nuvo Room
---
Contact : Nuvo Room
Contact :
Nuvo Room
Often considered a hidden gem, Hickory Street Annex is a wonderful wedding venue location that has plenty of character and charm. With architecture and design from the 1920s, the history and elegance of the area make it ideal for fun photo opportunities. Just a short distance from downtown Dallas, the venue easily accommodates up to 200 guests with options for indoor and outdoor setups. The beautiful exposed brick walls and high industrial ceilings make this a unique space that can be styled to suit any couples wishes.
Address: 501 S 2nd Ave #200, Dallas, TX 75226
Phone: (214) 828-1414
Social: Facebook
Profile: Hickory Street Annex
---
Contact : Hickory Street Annex
Contact :
Hickory Street Annex
Conclusion
Dallas and its' surrounding areas have some remarkable wedding venues to choose from. Whether you're looking for a Dallas wedding venue with country charm or something a little more modern, you're sure to find exactly what you're looking for in a wedding venue. Each of these venues offers something unique and includes marvelous wedding packages that are sure to suit your style and budget. You should start by choosing a few sites to walk-though to see what they offer. The superior service featured at each of these venues will help you feel relaxed, and that overwhelmed feeling from wedding planning will just slip away!
Weddings in Dallas
Why not have a wedding in the Big D?
A city of gorgeous architecture, interesting history, and frozen margaritas, Dallas should be at the top of your list.
Sure, with cities like Houston and New Orleans close by, you may have your reservations about Dallas. But this third biggest city in Texas has a lot to offer.
And as soon as you see our choice of fantastic wedding venues Dallas has for your perfect day, it's certain you'll be convinced to have your wedding right there.
Dallas loves these venue types
Nothing says rustic like a beautiful ranch with a barn made of wood and vast fields surrounding it. And Dallas has just that. Dallas also boasts several industrial-style buildings, as well as elegant ballrooms with crystal chandeliers for the perfect upscale wedding.
Venues and fees
The Roadrunner Ranch is a 100 plus acre ranch, with cattle and horses roaming around. It offers a gorgeous countryside landscape and a custom experience that will ensure your wedding is remembered for years to come. They have four ceremony locations, including a barn and an open pasture, as well as two reception sites, so you can choose one that suits your needs. For a wedding package, prices start at $5995 and peak at $7995, depending on the day of the week.
With rooms that carry names such as "The Bentley" and "The Gatsby," you know Edison's has it figured out. And they also have a 1947 Bentley for your viewing pleasure. But what most important is that they provide an incredible experience whether you have an intimate event or a large gathering. With a chick industrial design, Edison's venue is perfect for an urban wedding. Prices range from $1500 to $5000, but this depends on the site. You should contact them through their website to get an exact quote.
Warwick Melrose is proud to call itself the best wedding hotel in Dallas. With luxurious rooms and sparkling chandeliers offer that graceful charm of true elegance. Their six wedding sites can accommodate from 10 to up to 200 guests. And they offer custom menus and decorations. Prices depend on the time of year, day of the week, as well as the location, and number of guests, but package prices start at $70 per person. It's best to query with them for your unique event quote.
Best time in Dallas
For that perfect spring wedding, we suggest choosing Dallas during March and April when the chance of rain is lower, and the temperatures average at a pleasant 71°F and 76°F, respectively.
If you don't mind some clouds and enjoy the warm colors of fall, then October is the perfect month for your wedding, with average temperatures at 76°F.
So, whether you want a sunny day or a breathtaking backdrop of yellow and red trees, Dallas has it all.
For guests staying overnight
You might be coming out of town, or you have guests traveling to Dallas for your wedding. Here are the best options for accommodation in this Texas city.
For the best Dallas experience, a hotel in the downtown historic district will wow your guests and offer them amazing service. Courtyard by Marriott is modern and boasts amazing reviews. The price per person per night is $150, according to Booking.com.
If your budget is tight, then Candlewood Suites are the best choice. With rooms coming at just north of $40 per person, this hotel is perfect for you.
Airbnb is another option if you want a bit more room for customization. With amazing suites and entire houses, Airbnb offers accommodation that ranges from $700 to $2000 for two nights.
Is your business featured in this article?
Copy the code below and place the code on your website to display the badge award on your website.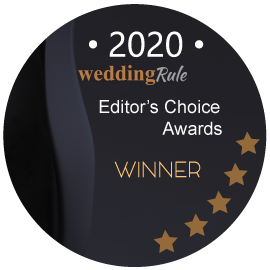 Chris is the lifestyle writer and has been the head of content at WeddingRule for the past 4 years.