Tucson's Top 10 Most Popular Wedding Photographers (2020)
EDITOR'S CHOICE: We've handpicked the best of the best wedding photographers in Tucson, AZ to help you pick the right one for your big day.
Whether you're planning a dreamy desert elopement or a glamorous candlelit soiree with all of your nearest and dearest, these Tucson wedding photographers are the best options for capturing it all.
From ethereal and romantic to modern and fun, in this carefully curated list of wedding photographers, you're bound to find a photographer that makes you fall in love all over again!
Betsy and John use three words to describe their wedding photography style: joyful, genuine, and romantic – what more could you ask for in a wedding photography team? This husband and wife duo focus on making couples comfortable and creating genuine connections. One look through their portfolio will show that they certainly succeed at capturing those connections, whether it's between a couple or the loved ones that have come to celebrate them.
Facebook: Betsy & John
Address: Tucson, AZ, 85718
Phone: (520) 891-1136
Social: Betsy & John
Profile: Betsy & John
---
Contact : Betsy
Contact :
Betsy
Steven and Alisha, the husband and wife team at Steven Palm Photography has been capturing weddings in Arizona for over a decade. Steven Palm's background in fashion and film photography comes across clearly in his wedding photography: his clean, impactful images look fit for a magazine cover. And Alisha's experience as a wedding photographer ensures that no precious moment goes uncaptured on the day. Their work has a huge collection of accolades, including recognition from The Knot and WeddingWire every year since 2014. This wedding photography is classic and timeless with vivid color – the kind of images that you'll be proud to show off to all of your loved ones.
Phone: 520-625-2867
Facebook: Steven Palm Photography
Profile: Steven Palm Photography
Interview: 10 Questions with Steven Palm Photography
---
Contact : Steven Palm
Contact :
Steven Palm
"Don't just settle for pretty, have everything." This declaration from Sergio says it all. Creating some of the most unique images in the Tucson wedding photography scene, Sergio's images are dramatic, exciting and modern. Recognized over 30 times by industry leaders Fearless Photographers, his portfolio is bound to make you smile, with images that are so much fun and clearly filled with heart. 
Phone: 520-591-6861
Facebook: Sergio Photographer
Profile: Sergio Photographer
---
Contact : Sergio
Contact :
Sergio
If you're looking for a jaw-dropping wedding portrait with a Tucson sunset as the backdrop, look no further. For the past four years The Gawnes have been recognized by The Knot's "Best of Weddings." This husband and wife wedding photography team excels at capturing dramatic light and raw emotion, combining the two to create epic images.
Phone: (520) 230-5960
Facebook: The Gawnes
Profile: The Gawnes
---
Contact : Gawnes Team
Contact :
Gawnes Team
Inspired by capturing special moments with their own family, Bryan and Anh of West End Photography create romantic, joyful, and timeless images with a light and airy feel. Their wedding photography collections begin at $2800 and they take a limited number of wedding clients each year to ensure a high standard of service for each couple. Brian and Anh are based in Tucson, of course, but they love to travel and are always keen to jump on board for a destination wedding.
Phone: 520-668-5056
Facebook: West End Photography
Profile: West End Photography
Interview: 10 Questions with West End Photography
---
Contact : Bryan
Contact :
Bryan
Highlighting Tucson's natural beauty as a part of each wedding he shoots, Andy Shepard's photography is fun, emotional, and has tons of personality. If you're looking for rich color and emotion that you can feel while simply looking at the picture, you will love Andy's style. This is wedding photography at its finest: candid moments, filled with that wedding day joy.
Instagram: Andy Shepard
Profile: Andy Shepard
---
Contact : Andy
Contact :
Andy
Kring's self-described wedding photography style is emotional and authentic, and her moody, cinematic images capture all of the intimacy and meaning of a wedding day. She shoots in a relaxed, documentary style, meaning that she won't force you into awkward poses, but she might guide you just enough to be in the perfect light at the perfect moment. Her dramatic photojournalistic style earned her recognition in Junebug Weddings' Worlds Best Wedding Photography awards. 
Phone: (520) 314-6152
Facebook: Kring Fotography
Profile: Kring Fotography
---
Contact : Kring
Contact :
Kring
This talented Tucson wedding photographer shoots in an elegant and romantic style using natural poses that result in genuine, intimate wedding photos. Christy takes a caring and supportive approach in the months leading up to your wedding, so you can relax and enjoy the day while she works her magic. Wedding photography packages begin at $2850 and include a complimentary engagement session.
Price: $2850
Facebook: Christy Hunter Photography
Profile: Christy Hunter Photography
Interview: 10 Questions with Christy Hunter Photography
---
Contact : Christy
Contact :
Christy
Sometimes a single photo can tell a story of its own. Justin Haugen is a Tucson photographer whose images do just that. Justin's photography is vivid and dramatic, and filled with personality and life, shot in a true photojournalistic style. Using both existing light and flash, Justin plays with silhouettes and shadowplay to create thoughtful and engaging images that you'll definitely want printed and hung in your home for all to see.
Phone: 520-481-4880
Facebook: Justin Haugen
Profile: Justin Haugen
---
Contact : Justin Haugen
Contact :
Justin Haugen
Serving Tucson but available worldwide, Tara Leinen creates stunning wedding images that are soft and romantic, showing the intimate and personal moments of a wedding day. Tara's wedding collections begin at $5000, though custom quotes are available for intimate weddings and elopements. Couples have loved her ability to capture all of the details in a day that can sometimes go by way too fast, resulting in fine art photography that will be cherished for a lifetime. 
Phone: 520-343-2385
Facebook: Tara Leinen Weddings
Profile: Tara Leinen Weddings
---
Contact : Tara Leinen
Contact :
Tara Leinen
Conclusion
Trying to choose a wedding photographer from the hundreds of results on Google can be a daunting task. Thankfully, we've narrowed down your search to the top 10 wedding photographers in Tucson so you can take your time to peruse each of their portfolios without feeling overwhelmed. With tons of great reviews and work that speaks for itself, though each of these wedding photographers brings something different to the table, we know you'll be in good hands on your wedding day.
Top five wedding photography destinations in Tucson
Do you know why Tucson has an added advantage when it comes to wedding photography? Nature is too alluring here, which would make it perfect for capturing love. Tucson lies on a flat valley surrounded by rugged mountains. It is also a cauldron of culture with ethnic populations of American Indians, Anglo, Mexicans, and Spanish. Beyond this distinctive cultural combination, the historic buildings, vintage neighborhood, and diverse college population add a charm to the city. If you travel a little out, you can find desert, mountain, and forested landscapes for a collage of options. Here are the top five wedding photography destinations in Tucson.
This park covers 92 thousand acres of greenery with a diverse species collection. It preserves the Sonoran Desert region, the Rincon Mountain district, and more. Notable animals in this park are javelin, gray foxes, mule deer, ground squirrel, jackrabbits, white-tailed deer, coyotes, and more. The most magical element is the Saguaro cacti that would add a West World look to your pictures. Before you walk into the park, explore the outskirts of the park for some simplistic ambiance. For a country-side theme, try the Bajada loop drive. Some prefer to explore the King Canyon trail for some exclusive pictures. Choose a cloudless day for capturing the panoramic view of the land.
Location style: National park, nature
Address: 15 miles to the west of Tucson
Social: Saguaro National Park
Mission San Xavier del Bac is a 17th – century pilgrimage site located along the riverbanks of Santa Cruz. The church contains a Moorish-inspired entrance, mesquite wood doors, and more. Inside, you will find many paintings, statues, frescoes, and carvings. A traditional ancient church structure would always add a European-styled theme to your pictures. Pair it with some trendy outfits, and you have got a classical photo session. The best part is the contrast that this white church offers amidst the desert landscape. The church allows couples to take pictures inside too. It is best to choose late mornings from Monday to Saturday to avoid the crowd. 
Location style: Church, architecture
Address: 1950 W San Xavier Rd, Tucson, AZ 85746.
Social: San Xavier del Ba Mission
Old Tucson is a famous theme park and a movie studio. So, you can easily find several west world cowboy-themed sites for a photoshoot. If the place is good enough for more than 400 movies, TV shows, and more, it is good enough for your wedding pictures. The area is quite big, and you can find both traditional and fun old west themed regions. You might have to rethink your traditional wedding attire. Choose a minimalistic earth-toned dress for this destination.
Location style: Old West, theme park, movie set, desert landscape
Address: 201 Kinney Rd, Tucson, AZ 85735.
Social: Old Tucson
Rosendo S. Perez Park is a small park holding some historic sites and many murals. The murals are an integral part of Tucson's culture. You can find murals around the city. However, the best ones are found at the Rosendo S. Perez Park. A lush collection of trees surrounds the area to enjoy some nature shots. Remember that the trees cast too many shadows, so it is best to visit during noon, for a vivid contrast look.
Location style: Park, historic, murals
Address: 424 S. Main Avenue, Tucson, AZ 85701
During the early times of Tucson, Congress Street was the prime commercial corridor. Today, it stands as a reminder of the glorious old times with theatres, cultural establishments, historic storefronts, and more. The name 'Congress Street' always reminds you of the Hotel Congress, an ideal site for nighttime photography. Beyond the neon lights, the hotel is a vibrant and lively destination. Besides the hotel, make sure to visit The Fox Tucson Theater for its southwest deco style and the eye-catching neon light for a nostalgic effect on your pictures.
Location style: Hotel, theater, hip neighborhood
Address: 311 Congress St, Tucson, AZ 85701
Social: Congress Street
Tucson might be a laid-back town still swimming in the Old West culture. But, if you wish your wedding photographs to be Instagram-worthy, this is the right location to pick in Arizona. Moreover, it is not easy to bring the contrast out in a desert landscape. So, pick experienced photographers as well.
Is your business featured in this article?
Copy the code below and place the code on your website to display the badge award on your website.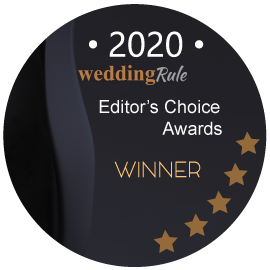 Chris is the lifestyle writer and has been the head of content at WeddingRule for the past 4 years.