Seattle's Top 10 Wedding Hair and Makeup Artists (2020)
EDITOR'S CHOICE: We've handpicked the best of the best Wedding Hair and Makeup artists in Seattle, WA to help you pick the right one for your big day.
Let's be honest, it's your wedding day, and you want to look perfect! Wanting to look stunning and gorgeous on one of the most memorable days of your life is normal.
To achieve this, you're going to need the assistance of a professional makeup artist and hairstylist. The challenge is to choose the right bridal hair and makeup with proper experience.
Here, I have covered the top 10 wedding makeup and hair in Seattle, Washington, that you will want to hire for your big day. Let's read about them.
Based in Renton, Washington, Sweet P Beauty specializes in bridal hair and makeup. The service is a one-stop-shop for brides looking to feel and look beautiful on their special day. They are famous for meeting every single need of their brides by offering personalized wedding beauty services. The team is a perfectionist at heart, making sure every makeup application, hairstyle, and everything in between is at its best. Browse their business website to know more about different bridal packages or talk to the team directly.
Address: 212 Wells Ave S, Renton, WA 98057
Phone: (206) 718-4103
Instagram: Sweet P Beauty
Facebook: Sweet P Beauty
---
Contact : Tiffany P.
Contact :
Tiffany P.
Salon Maison is one of the leading providers of bridal hair and makeup, serving Seattle and surrounding areas. They have been wedding specialists for more than 25 years. The company holds a considerable client base of distinguished personalities and celebrities who rely on them for their unmatched customer service. You can count on their professional makeup artists and hairstylists to help you achieve your dream bridal look. Hire them now and get ready to enjoy their pampering and relaxing services on your big day.
Address: 4435 35th Ave SW #108, Seattle WA, Seattle, WA 98126
Phone: (425) 223-3278
Instagram: Salon Maison
Facebook: Salon Maison
---
Contact : Ashley
Contact :
Ashley
Located in Seattle, the Bridal Beauty Agency is a high-end bridal beauty agency, offering hair and makeup services for local and destination weddings. All their hair stylists, makeup artists, and nail experts are fully trained and have extensive experience in this field. They offer both in-studio and on-location top-level beauty services to modern brides to meet their specific needs. The whole team works diligently to ensure that all their brides get the best beauty services with personalized attention. Contact them now to check out their availability for your wedding day.
Address: 55 S Atlantic St #408, Seattle, WA 98134
Phone: (206) 331.9877
Instagram: Bridal Beauty Agency
Facebook: Bridal Beauty Agency
---
Contact : Katya
Contact :
Katya
If you want a stress-free bridal hair and makeup experience for your big day, you can rely on Katie Kihara. Katie and her team are committed to using top-of-the-line cosmetics and techniques to make you look flawless. She will talk to you to know your vision and work wisely to create that dream wedding day look. If you want, they can create a customized bridal package for you – just talk to the team in advance. Hire Katie Kihara and let their professionals make your big day as stress-free and seamless as possible.
Address: 4810 airport way S, Seattle, WA 98108
Phone: (971) 225-7128
Instagram: Katie Kihara
Facebook: Katie Kihara
---
Contact : Katie
Contact :
Katie
Pacific Artistry is an award-winning, on-site bridal specialist in Seattle, Washington. It is one of the leading places for bridal makeup and hair in the city. Their exclusive bridal work has been featured in many publications and magazines. All their stylists are licensed and are passionate about delivering you the best possible experience on the most special day of your life. They will guide you through your entire wedding styling process from the time you contact them. Pacific Artistry offers many services, including bridal makeup and hair, hair extension, bridal touch-ups, and lashes – you can choose any as per your and your bridesmaids' needs.
Address: 901 Occidental Ave S, Seattle, WA 98134
Phone: (206) 765-7034
Instagram: Pacific Artistry
Facebook: Pacific Artistry
---
Contact : Lacey
Contact :
Lacey
Urbanista Weddings is an on-site and destination wedding specialist serving Seattle and nearby areas. They specialize in bridal hair and makeup and can accommodate you and your bridal party at one time. The team comprises estheticians, hairstylists, and makeup artists who have been awarded, featured, and published. They have been offering their outstanding bridal beauty services successfully since 2010. The team's goal is to make you feel and look like the most stunning bride on the planet. For more details on their bridal services, call today to fix your appointment with Hannah.
Address: 14810 Interlake Ave N, Shoreline, WA 98133
Phone: (425) 443-6177
Instagram: Urbanista Weddings
Facebook: Urbanista Weddings
---
Contact : Hannah
Contact :
Hannah
Bride and Jen is a specialized wedding makeup and hair agency. They have a team of specialists who are certified and licensed hair stylists and makeup artists. All members of the team have a minimum of 10 years of experience with a versatile background. They are known for their punctuality and assure you to meet all the desires you have for your big day. The team has been auditioned thoroughly and trained rigorously to offer you the very best bridal experience.
Address: 4502 42 ave SW apt 109, Seattle, WA 98116
Phone: (650) 464-0610
Instagram: Bride and Jen
Facebook: Bride and Jen
---
Contact : Jenice
Contact :
Jenice
Established in 2016, Bridal beauty by Ashley is one of the well-known on-site bridal makeup and hair services in Seattle. Ashley and her team can make you feel fabulous on your big day. They believe that all brides hold their style and beauty, and their job is to help them feel and look like the most amazing version of themselves. No matter your wedding venue, the professionals at bridal beauty by Ashley are fully prepared to make you and your bridesmaids look beautiful. They can make your whole wedding experience relaxing and fun.
Address: Seattle, WA
Phone: (206) 953-0230
Instagram: Bridal beauty by ashley
---
Contact : Ashley
Contact :
Ashley
Located in Seattle, Michelle Wight Makeup Artistry is an on-site makeup and hairstyling team. With a creative and relaxed approach, their professionals' goal is to help you celebrate your style on your big day. Voted Best of the Knot for 2019, Michelle works with her team to add those extra touches to make you look and feel your best. They have worked with hundreds of brides to help them achieve their dream wedding day look. From a natural bridal look to a glamorous makeover, Michelle can help you create the bridal look that is tailored just for you.
Address: NE 81st St, Seattle, WA 98115
Phone: (805) 816-2578
Instagram: Michelle Wight Makeup Artistry
Facebook: Michelle Wight Makeup Artistry
---
Contact : Michelle
Contact :
Michelle
Elle W Hair is an award-winning makeup and hair design service. They specialize in offering on-location makeup and hair service for brides and their bridal parties. Regardless of your dream bridal look, the team will achieve that by providing customized beauty services. They will travel to your home or wedding venue to offer you bridal makeup and hair for a picture-perfect wedding day look. To meet or exceed their brides' expectations, the team provides a range of services, such as airbrush makeup, contour makeup, eye makeup, hairstyles, and more. They will give their best to ensure you don't feel rushed or stressed on the biggest day of your life.
Address: 202 164th St SW Suite 4A, Lynnwood, WA 98087
Phone: (425) 387-7676
Instagram: Elle W Hair
Facebook: Elle W Hair
---
Contact : Laura
Contact :
Laura
Conclusion
I have said it before, and I will repeat it that choosing the right bridal hair and makeup can take your wedding experience to a whole new level. This list of the top 10 wedding makeup and hair in Seattle, WA, can help you select the best team for your big day. Choose any of them and get ready for a completely unforgettable experience.
Is your business featured in this article?
Copy the code below and place the code on your website to display the badge award on your website.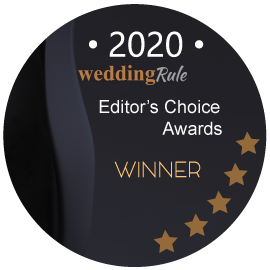 Emma is the client services manager at WeddingRule.com. She has previously worked with Australia's biggest weddings website, Wedding Diaries.