Chicago's Top 10 Wedding Hair and Makeup Artists (2020)
EDITOR'S CHOICE: We've handpicked the best of the best Wedding Hair and Makeup artists in Chicago, IL to help you pick the right one for your big day.
Your wedding day is undoubtedly one of the most special days of your life. Being a bride, you are the center of attraction and discussion on this day. So, never compromise on your wedding day look.
To have your dream bridal look, you must plan to book your makeup and hair at least 6 months in advance. If you live somewhere in Chicago and are looking for a professional for your hair and makeup, keep reading.
Here, we have put together the top 10 wedding hair and makeup in Chicago, Illinois, to help you pick the right one.
The Bridal Beauty Team ( Previously Kate Johnson Artistry Brides) consists of highly skilled artists with more than 80 years of combined experience in the field. Their amazing work has been displayed on the covers of magazines, such as Chicago Style Weddings and Modern Weddings, and also used in multiple editorial advertisements. If you want a unique, fairy-tale wedding day look that suits your personality, hiring The Bridal Beauty Team is a smart decision. Browse their online portal, choose any of their bridal plans, and be ready to get the desired look. Kate and her team can make your day perfect with their professional services.
Address: 2142 W Chicago Ave. Chicago IL 60622
Phone: (847) 401-7765
Instagram: The Bridal Beauty Team
Facebook: Kate Johnson Artistry Bridal Team
---
Contact : Kate
Contact :
Kate
Nika Vaughan Bridal Artists makes an ideal choice for those searching for top-level bridal makeup and hair. They offer on-location traditional, airbrush, beauty, and bridal makeup. The team serves almost the entire Chicago region and the rest of Illinois as well. They also do destination weddings, but may charge extra depending on the location and travel expenses. The goal of their professional team is to exceed clients' expectations, no matter what. Talk to the team and let them explain how they will bring your dream look to real-life.
Address: 957 N. Ashland Ave Chicago, IL 60622
Phone: (707) 681-5812
Instagram: Nika Vaughan Bridal Artists
Facebook: Nika Vaughan Bridal Artists
---
Contact : Nika
Contact :
Nika
Based in Illinois, Bella Bridal Beauty is an on-site makeup and hair team. All professionals strive to make their brides look amazing by giving them their dream wedding day look without breaking the bank. Founder of Bella Bridal Beauty, Renne Pecora, and her licensed team works with their brides to create stunning looks. They also provide lash extension and spray tanning services. For more details, book a trial with Bella Bridal Beauty today.
Address: 977 N. Roselle Rd., Hoffman Estates, IL 60169
Phone: (602) 903-7784
Instagram: Bella Bridal Beauty
Facebook: Bella Bridal Beauty
---
Contact : Renee
Contact :
Renee
If you want personalized hair and makeup services for your wedding, do contact Fearless & Bella. It is a Chicago, Illinois-based company specialized in making your special day even more special by offering first-class hair and makeup services. Nancy and her stylists at Fearless & Bella are incredible, all set to provide personalized and responsive services. They also conduct makeup & hair trials during your consultation to ensure your look is impeccable for your big day. Hiring this hair and makeup company for your wedding can be absolute fun and relief.
Address: Chicago, IL 60638
Phone: (773) 885-3593
Instagram: Fearless & Bella
Facebook: Fearless & Bella
---
Contact : Nancy
Contact :
Nancy
If you want to hire the right beauty team for your wedding day, why not contact Rare Bird Beauties. The professionals of Rare Bird Beauties use high-quality tools, detailed product knowledge, and customized makeup techniques to ensure all their brides feel and look like the best version of themselves both in-person and in-pictures. Their work stands out because they listen to their clients' needs and then implement their expertise to create a flawless look. The team works together to make each bride feel amazingly beautiful and radiant on her special day.
Address: 1019 N Western Ave, Chicago, IL 60622
Phone: (773)-407-1610
Instagram: Rare Bird Beauties
Facebook: Rare Bird Beauties
---
Contact : Ioana & Jen
Contact :
Ioana & Jen
Pin Me Up Chicago is a one-stop solution for all your bridal beauty services. The agency is well-known for their exceptional wedding hair and makeup in the region. Their professionals are dedicated to offering you the top-rated bridal beauty assistance with a memorable experience. Pin Me Up has served more than 2500 brides since 2009 and is still counting. Overall, if you want the best bridal beauty services with technical excellence, this on-location makeup agency is a great pick. Get ready to feel pampered and relaxed with their high-end, professional assistance.
Address: 111 N. Wabash STE 1318 Chicago, IL 60602
Phone: (312) 804-8842
Instagram: Pin Me Up Chicago
Facebook: Pin Me Up Chicago
---
Contact : Dana
Contact :
Dana
Whatever hairstyle you want on your special day, Ogla Filip Hair Studio has got you covered. Ogla is a professional, talented hairstylist with years of experience. She works with her team to give you the perfect style you want for your wedding day. Talk to Ogla now to check her availability on your wedding date, discuss your specific requirements, and let her create your desired hairstyle.
Address: 507 N Wells St Chicago, IL 60654
Phone: (630) 666-4597
Instagram: Olga Filip Hair Studio
Facebook: Olga Filip Hair Studio
---
Contact : Olga
Contact :
Olga
Every bride wants to look unique and gorgeous on her big day. If you desire the same, Diem Angie is there to turn your dream into reality. Diem Angie and her professional team can help you look out-of-the-world on your special day by giving you the best makeup and hairstyling services. The selected hairstylist and makeup artist will contact you in advance for trials to decide the final day look. Hire them to get a unique and special look on your big day.
Address: 4409 n kimball store, Chicago, IL 60625
Phone: (630) 835-3094
Instagram: Diem Angie
Facebook: Diem Angie
---
Contact : Diem
Contact :
Diem
If you're looking for the best bridal hair and makeup services in Chicago, look no further than Salon Glow Chicago. They provide customized, on-site hair and makeup services for all wedding functions, including rehearsal dinner, wedding day, and reception. The team of professionals can help you look your best with classic or airbrush makeup and elegant hairstyles, highlighting your natural features. They are dedicated to ensuring that you look glamorous on every occasion. Just discuss your specific needs and let the team give you a look you always wanted for your wedding day.
Address: 2766 N Lincoln Ave, Chicago, IL 60614
Phone: (773) 327-7200
Instagram: Salon Glow Chicago
Facebook: Salon Glow Chicago
---
Contact : Brittany
Contact :
Brittany
Based in Chicago, Lueur Beauti is an on-location makeup and hair business. The experienced artists of Lueur Beauti can make you look your best and feel confident on the most special day of your life. Their highly trained hair and makeup artist, Rana, is specialized in giving exquisite makeup looks to all brides. She works efficiently and passionately with her team to make sure your bridal party is picture-perfect. Contact Rana today, discuss your special wedding day requirements, and get a quote on all your services accordingly.
Address: 3605 N Western Ave, Chicago, IL 60618
Phone: (212) 470-1324
Instagram: Lueur Beauti
Facebook: Lueur Beauti
---
Contact : Rana
Contact :
Rana
Conclusion
These are the top 10 wedding hair and makeup in Chicago, Illinois. Compare these options by visiting their online portal and choose the one that suits your needs and budget the best.
Is your business featured in this article?
Copy the code below and place the code on your website to display the badge award on your website.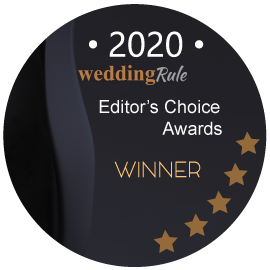 Emma is the client services manager at WeddingRule.com. She has previously worked with Australia's biggest weddings website, Wedding Diaries.