Top 10 Wedding DJs in Chicago, IL (2020)
A fabulous DJ can be the key to making your reception go from humdrum to a humdinger. Regardless of how well you have tried to plan a timeline of preloaded songs and playlists, there is nothing like having a capable person there on hand to read the room to get the vibe going.
A great DJ will be able to read the room and know the perfect time to bring out the dance music and when to sprinkle in some golden oldies or crack out the sing-along songs.
Be sure to chat to your choice of DJ about what songs you want to ensure are on the playlist and if you want them to also act as an emcee or instead just stick to the tunes. Similarly, consider giving your DJ a list of 'do not play' songs if there are any that you particularly detest. It's your day after all!
Best Wedding Djs In Chicago
Founded in 2014, The DJ Firm was started by Eric Sampson and Carlington Young to provide Chicagoland with the best talent and service from the best DJs. Their long list of happy customers from weddings to corporate parties is a testament to their ability to read their audience and set the mood through music. They will collaborate to create an ideal playlist and mix in classics and requests to your liking. In addition to DJs, they have beatboxers, MCs, drummers, and violinists on staff. The DJ Firm has all of the music equipment and sound systems needed and can provide customized lighting, monograms, and photo booths upon request.
Address: 2901 N Pulaski Rd, Chicago, IL 60641, United States
Phone: (312) 624-9358
Facebook: The DJ Firm
Profile: The DJ Firm
---
Contact : Sye Young
Contact :
Sye Young
For almost three decades, Chicago has been partying all night with Party All Night! DJ. Dwayne Pliska and his dedicated staff have performed at some of Chicago's biggest nightclubs. He was a radio personality for many years and performed at festivals throughout the US and Mexico. Whether you are into hip-hop, Top 40, rock, disco, classic, or a mix of all of the latest and greatest, Dwayne will have your dance floor packed and the energy topped up. Professional sound equipment, floor lighting, and microphones are also available.
Address: Chicago, IL
Phone: (708) 607-2789
Instagram: Party All Nite! DJ
Facebook: Party All Nite! DJ
Profile: Party All Nite! DJ
---
Contact : Dwayne
Contact :
Dwayne
Wedding packages with DJ Persist include your initial consultation and access to an online planning system where you can request and time all of your favorite songs in advance. You will also get full MC service on your special day, state of the art sound equipment and sound activate dance floor lighting and two wireless microphones. Service includes set up and break down and having a bilingual DJ on site. DJ Persist knows how to get your dance floor packed and ensure your guests, both young and old, are having the time of their lives.
Address: 6048 S Komensky Ave, Chicago, IL 60629, United States
Phone: (312) 320-4202
Instagram: DJ Persist
Facebook: DJ Persist
Profile: DJ Persist
Interview: 10 Questions with DJ Persist
---
Contact : Persist
Contact :
Persist
Schiller Chicago DJs have four wedding DJ packages available to choose from, depending on your needs and budget. The all-out diamond package includes a pre-planning session, introductions for your special dances, rehearsal music (if needed), and 6 hours of DJ and MC services on your big day. You will also be assured a top of the line sound system, lighting, request sheets, illumination DJ booth, wireless microphones, and a 100,000 strong song selection. Their customized lighting and LED effects will add that special touch and entice your guests out onto the dance floor.
Address: 29 7th Ave, Arlington Heights, IL 60005, United States
Phone: (708) 488-6416
Instagram: Schiller Chicago DJs
Facebook: Schiller Chicago DJs
Profile: Schiller Chicago DJs
Interview: 10 Questions with Schiller Chicago DJs
---
Contact : Ryan
Contact :
Ryan
Dream House Productions is a Chicago-based DJ service specializing in western and Indian weddings. The company boasts state of the art sound equipment, a talented team of DJs and MCs, and intelligent lighting designs to add wow to your reception. They will work with you to ensure everyone understands the timeline for your day and what songs go with which special moment. Dream House Productions aims to provide you with a stress-free day where every detail is executed perfectly so that you and your guests can have a fun-filled experience. There are various wedding packages on offer, and extra details can be booked, including monogram projection with customized logos, projectors, dry ice machines, and more!
Address: 3950 N Lake Shore Dr Chicago, IL 60613
Phone: (312) 841-1081
Instagram: Dream House Productions
Facebook: Dream House Productions
Profile: Dream House Productions
---
Contact : Ruki
Contact :
Ruki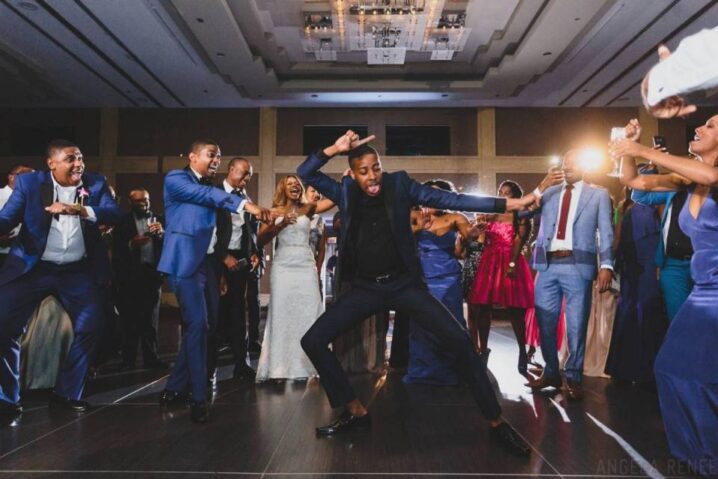 Are you up for having a blend of hip-hop, dance, pop, and R&B at your wedding reception? DJ D. Jones will provide this and more so that you and your guests can party like the VIP celebrities he has been known to entertain. He brings the club experience to weddings with talent and skill that has given DJ D. Jones the reputation for creating unforgettable entertainment. He's happy to collaborate with you about your favorite genre and song selections and ensure your night stays on-track with your timeline. Service and approachability are all part of the game, so let the special song requests roll in.
Address: 20 W Huron St Suite 110, Chicago, IL 60654, United States
Phone: (844) 566-3799
Instagram: DJ D. Jones
Facebook: DJ D. Jones
Profile: DJ D. Jones
---
Contact : Duerell
Contact :
Duerell
What makes for a great wedding DJ? To start with, you need to be open to collaboration and make every wedding playlist suited to the couple and their guests. You also need to understand the timeline of a wedding and how to perfectly time those special moments by working closely with the other vendors. Don't expect dancefloor clichés when you hire Toast & Jam but do expect that you and all of your guests will be running back to the dance floor again and again for their fantastic mix of hip-hop booty shakers, pop favorites, and timeless classics.
Address: 3317 W Fullerton Ave, Chicago, IL 60647, United States
Phone: (773) 687-8833
Instagram: Toast & Jam
Facebook: Toast & Jam
Profile: Toast & Jam
---
Contact : Mary
Contact :
Mary
Luniks Entertainment will cater the music to your style and musical preference and ensure that their DJs are continually reading the room to see how to get your guests up and moving. Their packages all include unlimited hours of music, as long as it is in the same room and an endless library of songs. They will consult with you before your big day to ensure everyone is on the same page regarding the timeline and songs for the big moments and have various planning forms to make your day run seamlessly. In addition to the top of the line sound equipment, mixers, and turntables, you can add on extras like customized monograms, uplighting, video, spotlighting, and even karaoke, if you're brave!.
Address: 2339 N Lowell Ave, Chicago, IL 60639, United States
Phone: (217) 419-4626
Instagram: Luniks Entertainment
Facebook: Luniks Entertainment
Profile: Luniks Entertainment
---
Contact : Daniel
Contact :
Daniel
DJ Marcus is Chicago's go-to wedding DJ from Chicago Mobile DJs and has been in the business for 15 years. He's also a fabulous MC, celebrant, and day-of wedding coordinator that understands the ins and outs involved in getting all of the puzzle pieces of a wedding day to fit perfectly. Packages include high-end sound equipment with sound-activated lighting show and up lighting to make your room shine. Wireless microphones and a cache of tens of thousands of songs, including ceremony music suggestions if needed.
Address: 808 S Harvard Ave, Villa Park, IL 60181, USA
Phone: (312) 869-2635
Instagram: Chicago Mobile DJs
Facebook: Chicago Mobile DJs
Profile: Chicago Mobile DJs
---
Contact : Marcus
Contact :
Marcus
For over two decades, Champions DJs have been rocking Chicago weddings and getting people up onto the dance floor. Their skill and knowledge ensure that your wedding will appear effortless as they keep to the timed schedule and announce you as newlyweds. These guys are professionals to the core and will get everyone dancing, or at least foot-tapping and singing along. There are various packages available, depending on the time of your reception and the equipment required. In addition to wireless microphones, lighting, and fantastic sound systems, you can also hire their photo booth and magic mirror screen to keep your guests entertained and capture all those unforgettable memories.
Address: 3619 W 26th St, Chicago, IL 60623, United States
Phone: (708) 780-8888
Facebook: Champions Djs
Profile: Champions Djs
---
Contact : Steven
Contact :
Steven
Conclusion
Love it or dread it, the first dance is a pivotal moment in any wedding timeline. A great wedding DJ will be able to work with you to get your guests up and dancing alongside you all night long after that. Chicago has some of the country's most amazing wedding DJs that would fit right into the club scene in any major international city.
Is your business featured in this article?
Copy the code below and place the code on your website to display the badge award on your website.