Top 10 Wedding Florists in Austin, TX (2020)
EDITOR'S CHOICE: We've handpicked the best of the best wedding florists in Austin to help you pick the right one for your big day.
Are you planning a traditional southern wedding? Do you wish to put out a modern rustic décor? Some florists are best in minimalistic designs and contemporary arrangements, and some are specialists in whimsical ornate decorations. 
Each florist has a signature style, design, and vibe. Instead of blindly picking the top results from your internet search, consider looking at the top florists in Austin, Texas. All the florists on our list can make your magical day into a wonderland dream.
Are you not sure how to create the perfect fairytale wedding? Stems Floral Designs has the perfect solution for you. They start with learning about your preferences, ideas, and budget. Then, they create a vision board and share it with you for approval and changes. 
You can update it along the way whenever you get a new inspiration. Right before the big day, they would offer you a tailored preview of the materials, floral designs, and more. On the wedding day, they handle the entire decoration process in coordination with wedding planners, catering companies, and other vendors.
Address: 11825 Buckner Road, Austin, TX 78726
Phone: 512-537-0577
Social: Stems Floral Design + Event Styling
Profile: Stems Floral Design + Event Styling
---
Contact : Abby Daigle
Contact :
Abby Daigle
Who said only fresh and seasonal flowers could bring that awe-inspired jaw drop? How about dried and preserved florals? Only businesses that have witnessed decades of changing trends can put together a masterpiece with different styles of flowers – dried, local, seasonal, preserved, foliage, and more. King Florist has been in business since 1927. Their experts can create truly unique signature looks for your big day, like combining succulents with white selenite and rocks. If you take pride in thinking out of the box, these florists will ensure that your wedding reflects the person you are.
Address: 1806 W Koenig Lane, Austin, TX 78756
Phone: 512-453-6633
Social: King Florist
Profile: King Florist
---
Contact : Benoit Ballon
Contact :
Benoit Ballon
Do you wish to add a little more than flowers to your wedding décor from your florist? It would be best if you had a full-service florist with candle installation, elaborate décor creation, flower crown, market wrap, and more. The Gypsy Floral and Event takes pride in creating a signature look like a brass table set up, flower bar, and more. If you're looking to set wedding trends that will have your friends talking for months, you need a creative fresh-minded young team on your side, like the one at Gypsy Floral & Events.
Address: 720 Gaylor St Austin, TX 78752
Phone: 512-632-3178
Social: Gypsy Floral and Events
Profile: Gypsy Floral and Events
---
Contact : Emily Reid
Contact :
Emily Reid
If luxury and tailored designs is your cup of tea, your choice should be Malleret Designs. Beyond floral arrangements, they are a complete package with services like venue selection, photographer, event design, cake artist selection, and more. After all, you need luxury from all elements of your big day and not just flowers. If you're someone who has an eye for exceptional beauty, you need a florist who matches your tastes – someone like Malleret Designs.
Address: 508 E 53rd St suite 100, Austin, TX 78751
Phone: 512-656-8803
Social: Malleret Designs
Profile: Malleret Designs
---
Contact : Marcela Bogado
Contact :
Marcela Bogado
What makes a wedding intimate, fun, romantic, or trendy? It is all about the artistic element of the event. It is hard to curate such a spot-on effect with just the venue and your dress. It would be best if you had something that would fill up the entire space and offer a unique look to your day. The team at Flora Fetish has the right resources, creative flair, and positive vibe to create that artistic look you yearn for. They specialize in end-to-end floral needs, from custom floral centerpieces to curated collections, while ensuring that you don't need to worry about going over budget.
Address: Austin, TX 78729
Phone: 512-293-9686
Social: Flora Fetish
Profile: Flora Fetish
---
Contact : Molly Copa
Contact :
Molly Copa
Instead of just picking flowers with matching or contrasting colors, how about creating a floral palette to align with your venue, theme, or favorite color? Do you want to recreate a fantasy wedding that you see in pictures? Or, do you want to craft one from scratch? Instead of blindly following orders, Bouquets of Austin will set up brainstorming and planning steps to ensure that every twig and petal is as per your expectation. After all, the bride should always get what she wants.
Address: 8863 Anderson Mill Rd, #111, Austin, TX 78729
Phone: 512-257-2395
Social: Bouquets Of Austin
Profile: Bouquets Of Austin
---
Contact : Stephanie Barro
Contact :
Stephanie Barro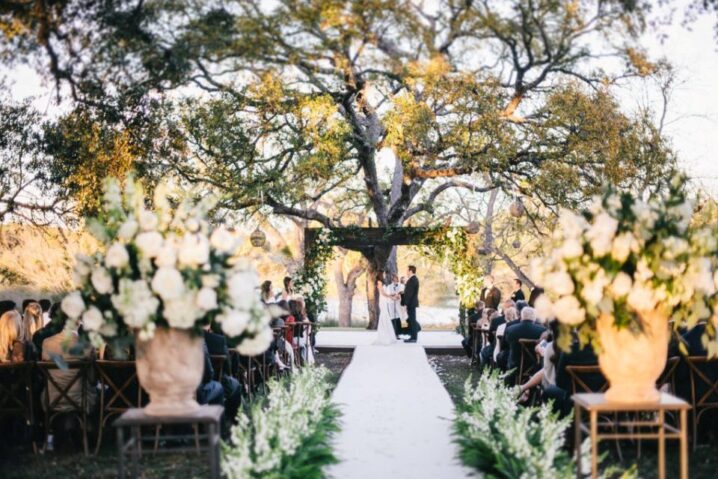 The Flower Studio is one of the very few reputed florists in Austin that offers DIY wedding options. The studio offers a variety of fillers, flowers, line flowers, greens, and more. You can put it together in a way you feel fit. On the other hand, you can choose their complete floral package from bouquets to head wreaths. Do you want it to be just tulips? Or, do you have a palate in mind? The Flower Studio has even your wildest dreams covered.
Address: 5100 Burnet Rd, Austin, Texas 78756
Phone: 512-236-0916
Social: The Flower Studio
Profile: The Flower Studio
---
Contact : Coby Neal
Contact :
Coby Neal
Many couples think that florals are just flowers, leaves, twigs, and there's nothing more that goes into floral design than choosing colors and types of flowers. However, haphazard design is like scattering flowers around the venue – something that just creates a mess. Only an experienced floral designer can combine flowers with other décor elements to create a picturesque backdrop or centerpiece. If you wish to append a little more to your wedding beyond the floral elements, you need Verbena Floral Design and their years of experience in the industry.
Address: 1601 W 38th Street, Suite 11 Austin, TX 78731
Phone: 512-420-0720
Social: Verbena Floral Design
Profile: Verbena Floral Design
---
Contact : Addie Kellington
Contact :
Addie Kellington
Is your wedding a garden romance theme or an eclectic boho affair? Exquisite Petals have the best designs and a large variety of seasonal and rare flowers to choose from. With their experience and a wide range of inventory, it is possible to create a dreamy wedding. They have the right packages for ceremonies, photo backdrops, sweetheart tables, and others. They make sure your big day remains memorable forever in the guest's memories.
Address: 4412 Jinx Ave Austin, TX 78745
Phone: 512-775-2328
Social: Exquisite Petals
Profile: Exquisite Petals
---
Contact : Beth Richard
Contact :
Beth Richard
Flowers are an essential element in weddings of all customs, traditions, and religions. Merveille Floral understands the spiritual and customary requirements of your ethnicity. Do you want to brighten the day with the right collection of floral elements and still not want to overlook even a single aspect of your wedding ceremony? Merveille Floral & Design is your best companion in that case.
Address: 209 E Ben white, Ste 210, Austin, TX 78704
Phone: 512-445-7227
Social: Merveille Floral & Design
Profile: Merveille Floral & Design
---
Contact : Katie Hood
Contact :
Katie Hood
Conclusion
What do you look for in your floral wedding arrangements? Do you wish to have organic seasonal flowers to enrich the color gradient of the place? Or, are you attempting to authenticate a statement about your unique personality, trendiness, or out-of-the-box thinking with flowers? Are flowers just for the color and feel or for a mild fragrance too? A professional florist can help you answer all these questions so that your wedding day is one that will remain with you forever. All the florists on our list offer top-notch service and are willing to help you create the wedding of your dreams!
More Wedding Florists in Texas
Is your business featured in this article?
Copy the code below and place the code on your website to display the badge award on your website.
Emma is the client services manager at WeddingRule.com. She has previously worked with Australia's biggest weddings website, Wedding Diaries.