Top 10 Barn & Farm Wedding Venues in Austin, TX (2021)
EDITOR'S CHOICE: We've handpicked the best of the best Barn & Farm Wedding Venues in Austin to help you pick the right one for your big day.
Black tie weddings in fancy hotel ballrooms are not everyone's style. In fact, formal wedding venues were heavily trending downwards even before social distancing became a conversation topic. Rustic chic projects an air of informality that encourages guests to relax while at the same time opening up the options for pops of creativity. Barn and farm wedding venues are ideal for Instagram-worthy photo setups and individualized décor options.
We have researched the very best barn and farm wedding venues in Austin, Texas, to make your job of pinpointing a venue much more straightforward. Whether you are a home-grown Texan or flying in for a destination wedding, we are confident that each of these venues will provide you with a remarkable memory of your big day.
Couples looking for flexibility should undoubtedly look into The Wildflower Barn. There is one fee for site rental that ranges from $2150-2750, depending on the month and day of the week you book it for. They also offer special prices for more intimate weddings of under 30 guests.  
The venue offers two event spaces: Bluebonnet Barn and Meadow Barn. Each space can accommodate up to 150 guests. Bluebonnet Barn offers multiple ceremony spaces, including outdoor spaces under oak trees and in a stunning meadow of flowers. Meadow Barn features two ceremony spaces, including one in a small meadow and a reception area covered by oaks, elms, and junipers. Services offered include in-house wedding photography, event rentals, and more.
Address: 1770 N Elder Hill Road, Driftwood, TX 78619
Phone: 512-751-2739
Social: The Wildflower Barn
---
Contact : Janet
Contact :
Janet
The Grove on Brushy Creek is just a hop, skip, and a jump away from downtown Austin. This stunning rural wedding venue can accommodate up to 160 seated guests indoors and has over 10,000 square feet of overall space to accommodate your needs. Event spaces on offer include the Creekside Terrace, Infinity Edge Patio, Climate Controlled Reception Space, and more. 
There are photo opportunities aplenty under the Oak trees or on the waterfront. The Grove is pet-friendly, so you don't have to worry about being forced to leave your furry best friend out of your big day. Services offered include all-inclusive packages, in-house catering and bartending services, use of the private dressing areas, event rentals, and more.
Address: 204 Fannin Ave, Round Rock, TX 78664
Phone: 512-203-2380
Social: The Grove on Brushy Creek
---
Contact : Katherine Boles
Contact :
Katherine Boles
Twenty minutes outside of Austin in Round Rock, Texas, you will be lucky enough to stumble upon Lone Oak Barn. They are located on 30 acres of beautiful rustic countryside and offer a combination of indoor and outdoor event spaces for you to choose from. The team at this venue will do all in their power to ensure your wedding day is a success. 
Wedding rental fees start at $5200 for Friday and Sunday weddings with tables, chairs, up to 12 hours of site rental, plus a one-hour rehearsal. There is a large bridal suite and groom's room. Optional fees include security, setup, and breakdown, heaters. Fully inclusive packages are also available upon request. Affordably priced elopements and micro-wedding packages are available starting at $6300.
Address: 1810 N County Road 122, Round Rock, TX 78665
Phone: 512-651-3214
Social: Lone Oak Barn
---
Contact : Shelli Aday
Contact :
Shelli Aday
Barr Mansion Ballroom & Farmstead is a popular wedding venue due to its proximity to Austin and the multitude of options available to personalize your special day. Whether you would prefer a small, intimate ceremony beautifully decorated with nature as your backdrop, or a large celebration with 300 or more guests, Barr Mansion can make it happen. 
This venue is ideal for those looking for an indoor and outdoor wedding venue that incorporates natural elements but still has a decidedly contemporary feel. The original Victorian Mansion was built in 1898, while the ballroom and farmstead pavilion are newer additions. You will be spoiled for choice, but Barr Mansion makes planning easy with their all-inclusive packages that focus on farm-to-table dining and personalized details.
Address: 10463 Sprinkle Rd, Austin, TX 78754
Phone: 512-926-6907
---
Contact : Barr Mansion Team
Contact :
Barr Mansion Team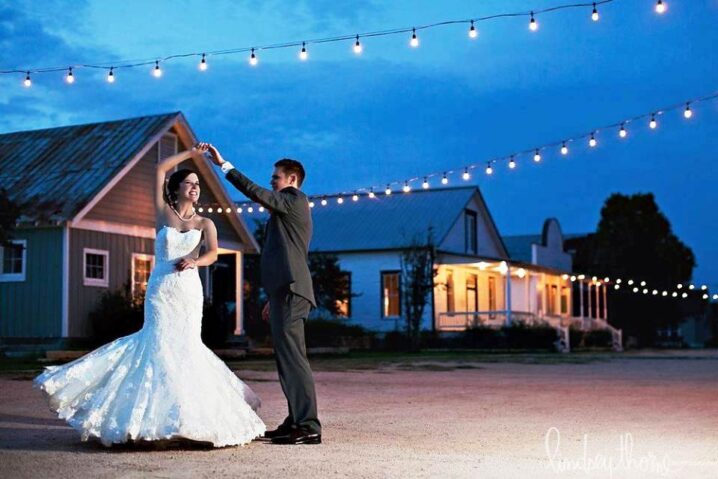 Star Hill Ranch is a gorgeous wedding venue that offers couples innumerable photo opportunities and Instagram-worthy details. Designed to resemble a Texas Hill Community from the early 1900s, Star Hill serves as a truly unique venue in which to host your big day.
There are a variety of event spaces available to choose from, including outdoor Arbour, two chapels, The Reception Hall, The Fitzhugh Building, and more. This venue can accommodate over 500 people, so you don't need to worry about cutting down on your guest list. Site rental fees start at $2000 and go up to $7500 on weekends during peak periods. Services offered include event rentals, the use of the Bride's Cottage and Groom's Quarters for the wedding party, planning and photo sessions, and more.
Address: 15000 Hamilton Pool Rd, Austin, TX 78738
Phone: 844-777-7827
Social: Star Hill Ranch
---
Contact : Matt
Contact :
Matt
If you are looking for a barn and farm wedding venue within easy reach of Austin, take a look at The Addison Grove. This beautiful wedding venue offers both indoor and outdoor spaces and can accommodate weddings of up to 200 guests. The modern barn offers 6000 square feet of event space and boasts stunning chandeliers and a wood-beamed ceiling. 
The large covered patio is the perfect spot for your guests to enjoy cocktails overlooking the expansive pasture while you have your wedding photos done under the trees or by the pond. There is a dedicated bridal suite for getting ready, and The Addison Grove will even throw in some sparkling wine and beer for your wedding party during the preparations.
Address: 11903 Fitzhugh Rd, Austin, TX 78736
Phone: 512-904-9656
Social: The Addison Grove
---
Contact : Matt & Jodi
Contact :
Matt & Jodi
Rambling Rose Ranch is a quirky, beautiful, and utterly unique wedding venue located midway between Dripping Springs and Austin, Texas. There are plenty of tucked-away spots overflowing with artistic details and a large oak tree that makes this indoor/outdoor venue an ideal ceremony site. 
The venue offers couples several event packages to choose from. Their Bare Bones wedding package is for 10 hours of venue hire and is priced at $1800. For those who prefer to leave the set up to Rambling Rose, there is a package that includes event rentals, set up and breakdown, and more, and is priced at $4800+. All packages include festoon lights, use of the old oak tree ceremony site, the fire pits, a separate cottage and cabin for the wedding party to get ready in, and more.
Address: 11104 Fitzhugh Road, Austin, TX 78736
Phone: 512-710-8441
Social: Rambling Rose Ranch
---
Contact : Morgan & Sandy
Contact :
Morgan & Sandy
Since 2007, Vista West Ranch has been the home for numerous memorable wedding celebrations. The venue is ideal for weddings of up to 250 guests and serves as a unique, rustic, bohemian chic event space. The venue boasts weathered wood, willow sphere light, a reception barn, and more, all of which help create a gorgeous romantic atmosphere in which to host your big day.
Services offered include event rentals, the help of a day-of wedding coordinator, DJ, the use of the bridal suite and groom's room, set up and clean-up, and more. Optional extras include the use of the outdoor fire pits and propane heaters. Vista West Ranch is happy for you to bring your own alcohol and will include two bartenders to make your planning easier. The venue also offers on-site accommodation for up to 34 guests.
Address: 4505 McGregor Ln, Dripping Springs, TX 78620
Phone: 512-894-3500
Social: Vista West Ranch
---
Contact : Joe & Stacey
Contact :
Joe & Stacey
Upon approaching Brodie Homestead, you would never believe that you are only ten minutes from downtown Austin. The site includes a stunning historic barn with a wooden gambrel roof that is jaw-droppingly beautiful. There are over 4200 square feet of indoor space available for you to choose from, as well as several ceremony sites to choose from. 
The venue boasts six crystal chandeliers, Edison bulb globe lighting, two private changing suites for the wedding party, outdoor walkways, and more. Brodie Homestead can accommodate up to 350 guests. Services offered include event rentals, setup and breakdown, a complimentary two-hour photography session, use of the catering prep kitchen, an on-site manager, and more.
Address: 5211 Brodie Ln, Austin, TX 78745
Phone: 512-439-2981
Social: Brodie Homestead
---
Contact : Daniel & Vicki
Contact :
Daniel & Vicki
Pecan Springs Ranch is one of the most sought-after wedding venues around Austin and boasts an accommodating staff who are committed to ensuring that your big day goes off as smoothly as possible. The venue boasts a multitude of pecan and oak trees, a pond, fresh springs, and a creek. 
Located on 17 acres of space, this venue features a 6000 square foot climate-controlled building, multiple outdoor ceremony locations, a 4500 square foot pavilion, and more. Weddings of up to 300 guests and services offered include event rentals, help from an on-site property manager, and more. There are even lawn games and the cutest 'drink donkey' bartenders you have ever seen.
Address: 10601 Derecho Dr, Austin, TX 78737
Phone: 512-632-1046
Social: Pecan Springs Ranch
---
Contact : Judy Smith
Contact :
Judy Smith
Conclusion
Choosing to tie the knot in a barn and farm wedding venue can allow you to put your own spin on the day and create a truly unique and unforgettable celebration. By being naturally relaxed and informal, you can forgo the stressful etiquette that comes with weddings, like strict seating plans, and instead focus on creating experiences for enjoying time with your loved ones.
More Barn Farm Weddings in Texas
Is your business featured in this article?
Copy the code below and place the code on your website to display the badge award on your website.
Amanda Sven is the chief content editor at WeddingRule. With over 6 years experience with planning weddings in different parts of the US, Amanda is an expert at all things weddings.