Top 10 Wedding Florists in Denver, CO (2020)
Last updated on April 7, 2021
by Chris
EDITOR'S CHOICE: We've handpicked the best of the best wedding florists in Denver to help you pick the right one for your big day.
The flowers you choose can help you make a statement on your big day. Red roses mean desire, white roses mean purity, yellow roses mean joy and lavender roses mean love at first sight. Purple tulips represent royalty, white ones represent worthiness, and red ones mean love. Daisies showcase new hope, lilacs mean youth, and so on. 
What kind of statement do you want to make at your wedding? The right flowers can help enhance your big day, and finding the right florist is essential to do so. To help make sure that you're making the perfect statement on your big day, here are the top 10 florists in Denver, Colorado.
Best Wedding Florists In Denver
Lale Florals offer customized floral designs and artwork for weddings with two types of packages – Full-Service and Designer's Choice. The Designer's Choice package offers professional services, including consultation, creating a framework, and delivering the décor items. The Full-Service package is an end-to-end service that offers consultation, collaboration with other vendors, inspiration board creation, delivery, installation, breakdown, and more.
Address: 910 Santa Fe Drive, Studio 104, Denver, CO 80204
Phone: 720-515-6418
Social: Lalé Florals
Profile: Lalé Florals
---
Contact : Stephanie Clark
Contact :
Stephanie Clark
Plum Sage Flowers offer high-end floral decorations for all kinds of weddings. You can expect gorgeous artwork and décor elements on your big day. How do they begin? The team offers an in-detailed consultation for the couples to share their ideas. The team also has a long list of options for the unaware couples to get inspiration for the event. Once the framework is decided, the rest of the responsibilities are handled by Plum Sage Flowers to the tee.
Address: 285 South Pearl Street Denver, CO, 80209
Phone: 720-328-2190
Social: Plum Sage Flowers
Profile: Plum Sage Flowers
---
Contact : Erin Hornstein
Contact :
Erin Hornstein
Project Floral offers dedicated flower arrangements and other decoration services for your wedding. Sit down with the Project Floral team in their studio. You can decide on your choice of bloom, theme, budget, other décor elements, and more. Based on the decided blueprint, the team offers an estimate. You can make any alteration to the blueprint, and once decided, you will receive an in-depth framework, and the team will procure the best blooms, tools, and other requirements and start working from six weeks before your wedding date.
Address: 200 Santa Fe. Dr. Denver, CO 80223
Phone: 720-863-6472
Social: Project Floral
Profile: Project Floral
Interview: 10 Questions with Project Floral
---
Contact : Tristin Johnson
Contact :
Tristin Johnson
Babylon Floral Design has a different outlook on wedding decorations. You will have an extensive variance of styles to pick from. They create various themes by combining tropical blooms with local ones, traditional and contemporary garden-grown options, and a sleek, trendy arrangement for those who wish to start a new wedding fashion. If you do not have a clear preference, you can always pick the Designer's Choice pack. The team will offer the best decorations based on your budget, venue, and other elements.
Address: 1223 E 17th Ave, Denver, CO 80218
Phone: 303-830-6855
Social: Babylon Floral Design
Profile: Babylon Floral Design
Interview: 10 Questions with Babylon Floral Design
---
Contact : Arthur Williams EMC AIFD
Contact :
Arthur Williams EMC AIFD
Ladybird Poppy guarantees eclectic arrangements by procuring unique blooms from farmers and local dealers. The team has over 20 years of floral experience in creating extraordinary décor with simple bloom choices. Thus, they can offer unique decorations for bouquets, tablescapes, boutonnieres, floral crowns, and more. You can also pick small, sleek decorations for your cake. Do you have a theme in mind? Share your inspiration and let the experts tune it into a magical wedding.
Address: 4457 Inca St Unit B, Denver, CO 80211
Phone: 720-220-9654
Social: Ladybird Poppy
Profile: Ladybird Poppy
---
Contact : Sarah Tedford
Contact :
Sarah Tedford
Honeycomb is a market-style shop and a full-service floral decorator. The team procures fresh blooms from local farmers and custom-arranges artwork based on your requirements. Do you have a theme or a mood board ready? You can expect the team to put together every scene of your dream wedding together with flowers and other botanical elements. Or, give your budget and leave it to the expert with over a decade of experience to make something beautiful, whimsical, cosmopolitan, or traditional.
Address: 2440 W. 44th Avenue, Denver, CO 80211
Phone: 720-503-8013
Social: Honeycomb & Co.
Profile: Honeycomb & Co.
---
Contact : Jenna Rice
Contact :
Jenna Rice
Newberry Brothers has a history of selling the Colorado Carnation, a trademarked flower, since the end of World War II. Today, the brand is a local landmark, and the team has managed to create a well-oiled network for all types of wedding floral needs. You can expect high-quality fresh blooms for your wedding. Do you prefer a specific flower for the decoration? The team will offer a wide range of colors and other options for each species for you to custom-create a signature look.
Address: 5301 Leetsdale Drive Denver, CO 80246
Phone: 303-322-0443
Social: Newberry Brothers
Profile: Newberry Brothers
---
Contact : Paula Newberry-Arnold
Contact :
Paula Newberry-Arnold
Amore Fiori Flowers does not have a cookie-cutter method with templates and limited choices of flowers. You can create any number of looks for your wedding like rustic and vintage, cliché and classic, contemporary and more. Do you want a mild decoration with muted colors? Or, do you prefer a grand wedding with lantern centerpieces, artworks, cascading decorations? Amore Fiori Flowers has got all your needs covered. After all, your wedding day should be unforgettable and worth a million clicks.
Address: 7353 29th Ave, Denver, CO 80238
Phone: 303-333-3848
Social: Amore Fiori Flowers & Gifts
Profile: Amore Fiori Flowers & Gifts
---
Contact : Michelle Stefanon
Contact :
Michelle Stefanon
Since 1920, Lehrer's Flowers has managed to create hundreds of lavish weddings. The brand is one of the largest floral service providers in Denver for almost a century, and the team has a long-lived reputation for crafting high-class wedding decorations for any budget. The team offers arch pieces, reception design, bouquets, and other decorations. Get a free floral consultation and share your requirements. Lehrer's Flowers has a large supply chain network offering you the chance to create the grandest and iconic wedding ceremony.
Address: 2100 W Mississippi Ave #200 Denver, CO 80223
Phone: 303-455-1234
Social: Lehrer's Flowers
Profile: Lehrer's Flowers
---
Contact : Kevin Byerly
Contact :
Kevin Byerly
The Twisted Tulip is a lot more than a complete floral decorator. They have tie-ups with makeup services, wine shops, photographers, hotels, jewelers, bakeries, and more. Thus, you can have a one-stop destination for most of your wedding requirements at The Twisted Tulip. They offer aisle décor items, centerpieces, garlands, bouquets, boutonnieres, flower crowns, corsage, and more for floral decorations. You can custom-design every element of the floral decoration during your initial consultation.
Address: 300 Fillmore St, Denver, CO 80206
Phone: 303-355-6996
Social: The Twisted Tulip
Profile: The Twisted Tulip
---
Contact : Donald & Nancy
Contact :
Donald & Nancy
Conclusion
Today, floral decor ranks among the highest costs that couples incur at their wedding. The right floral designer will help you stick to your budget so you do not have to worry about going overboard. Surf through your options on our list and pick the right service provider who can give customized solutions, unique blooms, and a signature look within your budget.
Is your business featured in this article?
Copy the code below and place the code on your website to display the badge award on your website.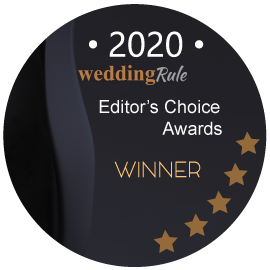 Chris is the lifestyle writer and has been the head of content at WeddingRule for the past 4 years.