Top 10 Wedding DJs in Washington, DC (2020)
by Chris
October 25, 2020
EDITOR'S CHOICE: We've handpicked the best of the best Wedding DJs in Washington, DC to help you pick the right one for your big day.
A perfect wedding party depends on many factors such as the venue, lighting, outfits, flowers, and food. But good music is what truly lights up the scene, and without that, a wedding party would simply be too dry.  
A good DJ will keep your guests pumped up with his energetic party music. And we are here to help you choose the right DJ service!
In this article, we feature some of the top DJ Services currently operating in Washington, DC.
Bryan George Music is one of the oldest and most experienced DJ services operating in Washington, DC. This company was founded 15 years ago by Bryan George.
They have provided music for over 2000 weddings and specialize in DJ services for weddings alone. Their team comprises highly talented and experienced professional DJs who now operate under his leadership.
Additional services offered include wireless uplighting, string ensembles, and photo booths.
To get a quote for your big day, reach out to Bryan George Music via telephone, the company website, or social media accounts.
Address: Washington, D.C
Phone: (202) 345-6695
Social: Bryan George Music
---
Contact : Bryan George
Contact :
Bryan George
Are you looking for a lively DJ that can keep the soul of your wedding party upbeat? Whether you want to jam to POP Remixes, Trance, Deep House, EDM, Funk, or a mix of these genres, DJ Bedro has got your back!
Currently, DJ Bedro operates in Washington and the areas surrounding it. However, he also pumps up weddings outside this area with his spicy mixes. 
Specializing in weddings and parties, DJ Bedro carries an unparalleled experience. All in all, this man knows how to keep the spirit of the party alive.
To get a quote, visit DJ Bedro's business website today or give them a call.
Address: Washington, D.C
Phone: (301) 467-7990
Social: DJ Bedro
---
Contact : DJ Bedro
Contact :
DJ Bedro
House Monsters DJs is a well-known DJ service that covers weddings and other events all over Washington, DC. Furthermore, this company is run by DJ Tyso, a household name in the world of Disk Jockeying.
House Monsters DJs offers three packages – the Essential Package ($2000), Prestige Package ($2500), and Dream Package ($3000). 
The Essential Package includes DJ/MC service with professional audio and wireless uplighting.
The Prestige Package includes all Essential Package services + 70" monitor or 2-intelligent lighting with Plexiglass Booth, and Fixtures on Towers/Trusses.
Lastly, the Dream Package includes all Prestige Package services + dancing on cloud effects and an indoor sparkler effect.
Also, they offer an add-on package for $1500 that features two 70 inches monitors that include a live cam. This live cam runs a custom log, live photos, 3D Motion designs, or live streaming.
Address: Washington, D.C
Phone: (240) 603-7919
Social: House Monsters DJs
---
Contact : Tyso
Contact :
Tyso
Dan Goldman Events is one of the most popular wedding DJ services in Washington DC, Virginia, Maryland, and nearby areas.
The mastermind behind this company is Dan Goldman, a professional DJ with years of experience under his belt. Apart from unmatched DJ services, the team at Dan Goldman Events also offers some additional services that include bands and musicians, photo booths, lighting, production, and live streaming of wedding parties.
Since they offer a great team of DJs and diverse additional services, Dan Goldman Events is among the top choices of couples in Washington, DC.
Address: Washington, D.C
Phone: (202) 215-3655
Social: Dan Goldman Events
---
Contact : Brennan Sullivan
Contact :
Brennan Sullivan
Marquee Artists is a DJ, lighting, and photobooth company that operates in DC, Virginia, NYC, Philadelphia, and Maryland.
With a team of highly skilled and hand-picked DJs, Marquee Artists promises an exceptional service throughout Washington, DC.
They also offer talented musicians for the cocktail hour. This includes a live pianist, solo guitarist, vocalist + guitarist, and a vocalist + guitarist + a double bass player.
Their rates start at $1500, which includes planning, DJ services, and a pro sound system. You can also choose add-ons like extra wireless mics, fun lighting, photo booths, and additional audio systems.
Address: 3900 Watson Pl NW, Washington, DC 20016
Phone: (202) 505-2008
Social: Marquee Artists
---
Contact : Kelton Higgins
Contact :
Kelton Higgins
Exclusively Entertainment specializes in DJ services for weddings, corporate events, and private parties in Washington, DC.
This service has been around for more than 20 years and has covered 3000+ events. Their team of DJs includes Dirty Hands and Inferno, as well as Ace, Ari Jam, Kam, Kia, Luis, Oz, Pedram, Pierre, Saam, Shahab, Xavi, and Welby.
To get a quote, visit their website today. With that, you can reach out to them via telephone.
Address: 4601 Hunt Ave, Chevy Chase, MD 20815
Phone: (888) 881-3936
Social: Exclusively Entertainment
---
Contact : Pierre
Contact :
Pierre
Shew-sical Entertainment is a premium wedding DJ service that operates in the greater DC, South Central Pennsylvania, Frederic, and Baltimore.
This fully organized team of highly experienced DJs have rocked many wedding parties in the Washington area. They are far more than any regular DJ company.
This company offers a mix of services that include full DJ/MC service, ceremony and cocktail coverage, custom and personalized introductions, wireless and battery-powered speakers, remote powered speakers, custom mixes and mashups, and afterparty coverage.
With a great collection of music and an unmatched experience, this is the go-to DJ service of nearly every couple of Washington, DC.  
Visit their website and social media pages today to find out more about them.
Address: Washington, D.C
Phone: (888) 743-9742
---
Contact : Matt Shew
Contact :
Matt Shew
Astro Event Solutions is a top-notch DJ service run by DJ Beaini, a well-known professional in the world of Disc Jockeying.
Though this company was founded just recently in 2020, DJ Benani has provided music for over 2000 events in his career.
Astro Event Solutions is a company run by one of the top names in the industry. This company covers a wide range of events such as club parties, private events, international parties, and of course, weddings.
So, regardless of what the theme of your wedding party is, Astro Event Solutions has got you covered!
Address: Washington, D.C
Phone: (703) 677-4677
Social: Astro Event Solutions
---
Contact : Beaini
Contact :
Beaini
With 15 years of experience, DJ Maskell operates throughout the Washington DC area, as well as Virginia, Maryland, and surrounding areas. Throughout his career, he has played a wide range of genres at over 450 weddings.
As an independent contractor, DJ Maskell works with couples directly and offers a fully personalized DJ service. Hence, many couples place their full faith in him.
With that, he also provides an unmatched experience beginning from the intro music piece to the last. DJ Maskell does not charge extra for add-ons. Instead, he offers a flat quote that covers everything from the lighting to the equipment.
Address: Washington, D.C
Social: DJ Maskell
---
Contact : Mark Maskell
Contact :
Mark Maskell
DJ T Beauty is an experienced DJ who operates in Washington, DC, and surrounding areas. Moreover, her unique taste in music makes her one of the most uplifting and exotic DJs in the area.
She specializes in several genres, including pop, EDM, rap, r&b, hip hop, reggae, afrobeat, go-go, and Christian music. And in each of her music sets, she adds a unique flavor.
With that, she knows how to pump up the audience in both smaller settings and larger stadium level events.
Her wedding DJ services start at $150 per hour with a $100 deposit (non-refundable). These costs also cover the hosting, sound rental, and music tailored to the specific audience/needs of the couple.
With that, you could also get a photo booth add-on for $100 per hour with a $50 deposit (non-refundable).
Also, for a flat fee of $30, you may as well receive fully customized props for the wedding party.
You can contact DJ T Beauty via phone or website/social media.
Address: Washington, D.C
Phone: (240) 437-3686
Social: DJ T Beauty
---
Contact : Tonisha Monique
Contact :
Tonisha Monique
Conclusion
Wedding parties can quickly become boring without good music. Hence, we strongly suggest you invest your time and energy into hiring a suitable DJ service.
However, hunting for a suitable DJ is an overwhelming process. After all, there are a plethora of options out there. But with this list, we have made that incredibly easy for you.
All the DJ services included in our list are hand-picked due to great reviews and an active internet presence.
So, what are you waiting for? Give one of them a call and spice your wedding party up!
Is your business featured in this article?
Copy the code below and place the code on your website to display the badge award on your website.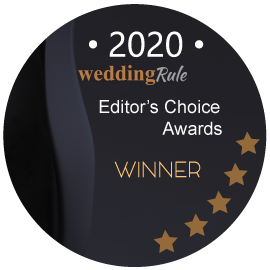 Chris is the lifestyle writer and has been the head of content at WeddingRule for the past 4 years.