Top 10 Barn & Farm Wedding Venues in New York City, NY (2021)
EDITOR'S CHOICE: We've handpicked the best of the best Barn & Farm Wedding Venues in New York City to help you pick the right one for your big day.
Getting out of the city and away from the hustle and bustle can be just the mini-break that you and your wedding guests need. Barns and farms make idyllic venues for tying the knot for more reasons than just their laid-back, country charm.
Barns and farms have tucked away spots for intimate ceremonies or extensive gardens for those that can't possibly wheedle down their guest list. Hotels and banquet halls typically have strict curfews, noise regulations, or specific vendor requirements. However, since barn and farm wedding venues are generally in rural areas, you will likely have more flexibility to plan your timeline.
We have carefully devised a list of the very best barn and farm wedding venues around New York City to make deciding on the perfect venue for your big day easier. Have a look and then start to imagine how gorgeous your wedding photos will be in the country.
Best Barn Farm Weddings In New York City
Oz Farm is the epitome of a barn and farm wedding venue. You will get all the rustic charm you have ever dreamed of, complete with horses and ponies meandering about on the expansive property. 
The Ceremony Field is ideal for open-air ceremonies or tented receptions. There are two barns available with vaulted ceilings and exposed wooden beams, which can be decorated to your liking and are large enough to host a sit-down dinner, with room to spare for dancing. Outside you will find fire pits and space for dancing under fairy lights. Oz Farm can accommodate up to 1000 guests and offers all-inclusive wedding packages with catering and bartending, event rentals, décor, parking, bridal suite, and clean up all included in the price.
Address: 280 Malden Turnpike, Saugerties, NY 12477
Phone: 845-554-0969
Social: Oz Farm
---
Contact : Jennifer Oz LeRoy
Contact :
Jennifer Oz LeRoy
You will find The BARN at Liberty Farms two hours away from New York City. Located down a windy, secluded road, this year-round private wedding venue is tucked away amongst a 300-acre organic farm. You will be spoiled for choice for ceremony sites and photo opportunities with hilltops, paddocks, and expansive lawns complete with furry friends. 
The wood-paneled barn can accommodate up to 180 guests under iron chandeliers with cozy lighting and has a decidedly romantic feel. The BARN at Liberty Farms will only host one wedding per weekend, so you can be assured of complete privacy. Services offered include the use of the bridal suite, parking, audiovisual equipment, event rentals, clean-up, and more.
Address: 60 Ostrander Rd, Ghent, NY 12075
Phone: 917-539-9283
Social: The BARN at Liberty Farms
---
Contact : Danni Uberoi
Contact :
Danni Uberoi
Owls Hoot Barn is located about two hours from New York City in West Coxsackie, New York. The Dutch barn from the 1800s is the ideal venue for a country-style wedding. It has a capacity of up to 200 guests with the attached pavilion. Air conditioning is available in the heat of the summer to ensure everyone keeps their cool.
For over twenty years, Owls Hoot Barn has been the location for countless weddings. It has packages that offer wedding planning and coordination services to make the wedding planning process easier for you and comes with a vast selection of rustic décor on offer. A small amount of overnight accommodation is available on-site, which is ideal for the wedding party or close family.
Address: 386 Bronck Mill Rd, West Coxsackie, NY 12192
Phone: 518-755-1706
Social: Owls Hoot Barn
---
Contact : Kerri
Contact :
Kerri
The Roxbury Barn and Estate is the ideal barn and farm-style wedding for eco-conscious couples. The organic garden is set on 42 secluded acres with pine groves, mountain views, ponds, and expansive fields. The carriage barn is at the center of celebrations at Roxbury Barn and Estate and comes complete with a bonfire to set the mood for an evening under the stars. 
Day-of-wedding coordination is included in all of their packages, and they also offer in-house catering and bartending services. Catering focuses exclusively on farm-to-table cuisine, highlighting local farms, distilleries, and breweries. Keep in mind that this venue is only available for weddings between May to October, so get your bookings in quickly!
Address: 667 County Highway 41 Roxbury, NY 12474
Phone: 607-326-4874
Social: Roxbury Barn and Estate
---
Contact : Casper & Roger
Contact :
Casper & Roger
The Barn at Old Bethpage is located about an hour's drive outside of New York City and offers a barn-style rustic wedding venue that can accommodate up to 300 guests. 
Boasting over 8000 square feet of event space, this venue offers both outdoor and indoor spaces in which you can host your big day. Couples also get the benefit of in-house bar and catering services, which come with a selection of serving styles to suit your event. Wedding packages can also include décor, lighting, event rentals, and more.
Address: 1303 Round Swamp Rd, Old Bethpage, NY 11804
Phone: 516-921-5707
Social: The Barn at Old Bethpage
---
Contact : David Lessing
Contact :
David Lessing
The Barn On Hubbard is set in the quaint countryside of Callicoon, New York, amongst rolling green hills, farms, and orchards. It is about a two-and-a-half-hour drive from New York City but will feel like you've left the city lights much further behind. 
The 28-acre property boasts a 4000 square foot historic barn with original wooden beams that are just waiting to have your decorative spin put on it, as well as 28 acres of outdoor property that serves as the perfect backdrop to your wedding photos.  The Barn On Hubbard is extremely accommodating and will allow access to the property for the duration of your wedding weekend. Services offered include in-house floral services, event rentals, in-house catering, and bartending services, the wedding cake, and more.
Address: 28 Hubbard Road, Callicoon, NY 12723
Phone: 845-798-7828
Social: The Barn On Hubbard
---
Contact : Sara Diehl
Contact :
Sara Diehl
10-acres of open fields with a pond and sweeping trees await you at Spring Brook Farm, located in the charming town of Warwick, New York. The natural landscape is ideal for couples looking to have a barn or farm wedding or a celebration outdoors within an hour's drive from New York City. 
This historic farm can accommodate up to 150 guests and is rented as a venue site for the entire weekend. The venue also boasts 10 acres of manicured fields, which are ideal for couples who would prefer an outdoor ceremony. You can also use the Estate on the property as a bridal suite, where you can get ready with your bridal party before making a show-stopping entrance in front of all your guests.
Address: 162 S, NY-94, Warwick, NY 10990
Social: Spring Brook Farm
---
Contact : Spring Brook Farm Team
Contact :
Spring Brook Farm Team
Drive an hour and a half north of New York City, and you will come across Crested Hen Farms at the Mohonk Mountain base. The historic English-Dutch style dairy barn has been restored to its 1830s original charm and provides 3000 square feet of indoor event space from mid Spring to the middle of Fall. 
Weddings of up to 150 guests can be accommodated under the expansive barn ceilings with original wooden beams. The property allows for numerous photo opportunities – you have the option of everything from Rondout Creek to the vast fields and forests. Wedding packages at Crested Hen Farms start at $18,000 and include valet parking, the use of the bridal suite, audiovisual equipment, decor, event rentals, the services of a day-of coordinator, and more.
Address: 607 County Route 6, High Falls, NY 12440
Phone: 845-687-2050
Social: Crested Hen Farms
---
Contact : Frank & Rich
Contact :
Frank & Rich
Shady Acres Organic Farm is a working farm that also serves as an exclusive wedding venue. This boutique-style wedding venue can accommodate parties of up to 150 guests in a combination of indoor and outdoor venue locations. The venue boasts a koi pond, 125-year-old outbuildings, a flagstone aisle to a forested ceremony site, and a new pavilion with matching rustic charm. 
Wedding packages start at $8000, including site rental, event rentals, parking, lighting, and more. They also offer in-house catering and bartending services, DJ services, décor, and exclusive vendor referrals. Keep in mind that this venue only hosts 12 weddings a year, so spots are extremely limited, and it's best if you get your bookings in now.
Address: 21 Finchville Turnpike, Middletown, NY 10940
Phone: 845-386-1415
Social: Shady Acres Organic Farm
---
Contact : Sasha & Ana
Contact :
Sasha & Ana
It might only be 45 minutes outside of New York City, but Pioneer Farm feels like another world. Set in the historic and beautiful Hudson Valley, Pioneer Farm boasts over 140 acres of farmland, trails, and greenspace. The venue is committed to being plastic-free and having a minimal impact on the Earth. 
There is accommodation on-site for approximately 50 guests and lots of space for camping with your own tents. Parking will never be an issue at Pioneer Farm. Services offered include parking attendants, concierge, electricity, an after-wedding bonfire, WIFI, event rentals, and access to their preferred vendor list. For couples looking for a venue that helps them travel back in time and create an unforgettable rustic celebration, this is undoubtedly the perfect choice!
Address: 65 NY-94, Warwick, NY 10990
Phone: 845-545-2863
Social: Pioneer Farm
---
Contact : Matt Hedge
Contact :
Matt Hedge
Conclusion
When you live in New York City, it can be tempting to get away from the city lights and seek a wedding venue that is the polar opposite of your everyday, busy life. A rustic wedding venue can be just the ticket to finding the tranquility that will allow you to let loose and enjoy your big day. No matter which of the venues you choose from this list, we're sure you won't be disappointed!
Is your business featured in this article?
Copy the code below and place the code on your website to display the badge award on your website.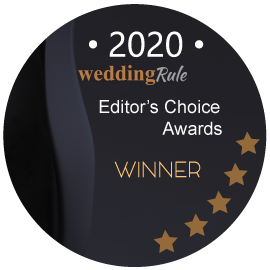 Amanda Sven is the chief content editor at WeddingRule. With over 6 years experience with planning weddings in different parts of the US, Amanda is an expert at all things weddings.