Top 10 Wedding Florists in Fresno, CA (2020)
Last updated on January 31, 2021
by Chris
EDITOR'S CHOICE: We've handpicked the best of the best wedding florists in Fresno to help you pick the right one for your big day.
Planning a wedding can be both fun and hectic at the same time. There's so much to do, so many samples to view, and so many decisions to make. Not to mention the flowers, which play an important role in the over role décor, theme, and ambiance that you want to create.
To help ease the pressure, you need a florist that is experienced and talented at giving couples the day they've been dreaming of. If you're getting married in Fresno, CA, their several florists you can choose to assist you. Below we have handpicked the top ten to make things easier for you.
Best Wedding Florists In Fresno
Botanique is owned and operated by two sisters, Andrea and Anna, who share a mutual passion for flowers and making their clients happy with their unique and creative designs. Using their clients' ideas and direction for inspiration and guidance, they produce stunning and beautiful floral arrangements. They go above and beyond to make their clients happy, exceeding their expectations every time. They are flexible, easy to work with, and will work to fit your budget.
Address: Fresno, CA
Phone: 559-917-3005
Social: Botanique Floral Artistry
Profile: Botanique Floral Artistry
---
Contact : Anna & Andrea
Contact :
Anna & Andrea
Owner Mariah Walton and her team of floral designers have over 25 years of combined experience in the floral industry. Each team member is well knowledgeable about flowers and brings a unique style of design to the table. As a result, whether you're looking for traditional and elegant, rustic, lush and romantic, or whimsical, they'll be able to get it done for you. With access to vibrant and luscious flowers from local and foreign farmers, they offer the f elopement arrangements, bridal bouquets, full-service floral designs with complimentary consultations.
Address: 4729 W. Jennifer Ave. Fresno, CA 93722
Phone: 559-276-1200
Social: Simply Flowers
Profile: Simply Flowers
---
Contact : Mariah Walton
Contact :
Mariah Walton
For almost forty years, this full-service florist has provided incomparable service with exquisite designs made with the freshest blooms. This team of experienced florists pays close attention to the finer details to create unique floral arrangements. Kiku Floral does not emphasize a specific style but instead tries to understand the client's vision and desire and make it a reality. The goal is to produce seamless service. As a result, they are available for hand delivery, set up, and clean up to ensure that everything is perfect on your special day. 
Address: 20192 Central Ave Reedley, CA 93654
Phone: 559-266-5480
Social: Kiku Floral
Profile: Kiku Floral
---
Contact : Larry & Lorrie
Contact :
Larry & Lorrie
With your vision and budget in mind, the talented and knowledgeable floral designers at Stems at Palatine will choose the right flowers to fit your taste and style.  Owner Mary C. Papaleo ensures that all designs are unique, fine quality, and follow the client's requirements. They offer consultations, set up and clean up, bouquets, boutonnieres, aisle décor, table arrangements, petals, flower crowns, corsages, to name a few.
Address: 7455 N. Fresno St. Suite 102, Fresno, CA 93720
Phone: 559-256-2294
Social: Stems at the Palatine
Profile: Stems at the Palatine
---
Contact : Mary C. Papaleo
Contact :
Mary C. Papaleo
The Bride's Bouquet is an online silk floral boutique providing realistic and exquisite silk wedding floral arrangements. Their products are of the highest quality and shipped with the greatest care to get to you in the finest quality. They offer various wedding packages, silk wedding bouquets, boutonnieres, corsages, cake decoration, table décor, and centerpieces. Bouquets can be customized by adding some jewel sparkle or choosing the color of the ribbon. The flowers are very realistic, beautiful, and affordable.
Address: Fresno, CA
Phone: 559-785-7803
Social: The Brides Bouquet
Profile: The Brides Bouquet
---
Contact : Heather
Contact :
Heather
Specializing in weddings and receptions, Awesome Blossoms offers unique floral arrangements made from the freshest flowers at the best price. They are professional and knowledgeable and will work with you to give you the wedding of your dreams. A design for your bouquet will be developed through a personalized consultation based on your dress, color scheme, time of year, and wedding setting. Coordinating bouquets for the bridesmaid, flower girls, corsages, and boutonnieres are also available. They also make arrangements for the ceremony and reception.
Address: Fresno, CA
Phone: 559-312-5440
Social: Awesome Blossoms
Profile: Awesome Blossoms
---
Contact : Dana Horton
Contact :
Dana Horton
Specializing in custom made floral wedding designs, Petals is committed to giving you the wedding of your dreams. They offer a free consultation, which is done by appointment, setting a time that works with your schedule. During this session, they will discuss your vision with you in all the details, such as your desired color, flower, budget, and more. If you have no clue where to begin, they will work with you to come up with a design that's perfect for you. Once the plan is reviewed, you receive a quote, and the work will begin. You will be kept up-to-date through the process to ensure your involvement and satisfaction.
Address: Fresno, CA 93720
Phone: 559-978-6836
Social: Petals
Profile: Petals
---
Contact : Manal Samaha
Contact :
Manal Samaha
Regardless of the size of your wedding, Elegant Flowers is committed to working with you to make it as beautiful and special as you envisioned. They offer free consultations where they work with your budget to create something beautiful. They also provide various packages and specials from which you can choose. They even try to accommodate last-minute orders ensuring that everyone's wedding day is as impressive as they desire for it to be.
Address: 7771 N. First St, Fresno, CA 93720
Phone: 559-451-0431
Social: Elegant Flowers
Profile: Elegant Flowers
---
Contact : Elegant Flowers Team
Contact :
Elegant Flowers Team
With over thirty years of experience under their belt, this family-owned and operated business is perfect for couples looking for expertly created contemporary floral designs.  Their staff comprises a team of educated, experienced, and accomplished floral designers. Committed to excellence and satisfying their clients' desires, they work closely with each client to bring their vision to life.  They deliver, set up, and clean up for each of their clients to ensure that the execution of their fashionable designs is flawless.
Address: 522 Pollasky Ave. Clovis, CA 93612
Phone: 559-297-0883
Social: A Secret Garden
Profile: A Secret Garden
---
Contact : Aubrey
Contact :
Aubrey
Specializing in floral wedding designs, Willow and Water is committed to providing top-quality service using the best flowers worldwide.  They offer consultations and various floral arrangements inclusive of bouquets, single flowers, altar décor, aisle décor, corsages, boutonnieres, table arrangements, and non-floral décor. They also provide all their clients with delivery, set up, and clean up. Collaborating with you, they will make your ideas come to life and exceed your expectations with a beautiful and captivating design.
Address: 1575 Shaw Ave Suite 114 Clovis, CA 93611
Phone: 559-477-7819
Social: Willow & Water
Profile: Willow & Water
---
Contact : Elisa Valdez
Contact :
Elisa Valdez
Conclusion
No matter whether you are looking for silk or fresh flowers for your floral wedding design, the right florist will be there for you every step of the way. Each of the florists on our list offers superb customer service and will work to ensure you have exactly what you need – no matter which you choose, you cannot go wrong!
More Wedding Florists in California
Is your business featured in this article?
Copy the code below and place the code on your website to display the badge award on your website.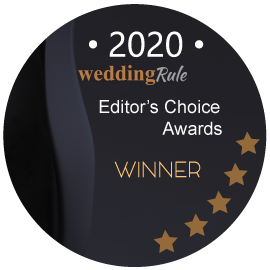 Chris is the lifestyle writer and has been the head of content at WeddingRule for the past 4 years.