Top 10 Wedding Caterers in Fort Worth, TX
Food is integral to the success of any get-together, so on your wedding day, you'll want to ensure that your menu matches the style of your wedding day, whether this is laid-back and comfortable or luxurious and elegant. Determining how many people can come to your wedding is often dictated by your budget.
Since generally near 50% of a wedding budget goes towards catering, this is a big factor. Ultimately, food is about bringing people together, so focus on the experience and how delicious everything will be.
Chef Jason Harper has made a name for himself in Fort Worth, Texas, with his Trio New American Café specializing in multicourse chef's tasting dinners. The catering side of the operation is equally delectable and makes our mouths water just reading the menus. Trio believes that the experience is just as integral as the taste, and this comes through with the truffle & gouda mac & cheese served in a martini glass. Mix that up with some tequila lime shrimp or some Bahn mi sliders. There is so much choice; it is dizzying. This company is known for its impressive hors d'oeuvres and fun, interactive stations, including carveries, fajitas, or Mexican grilled corn with all the toppings.
Address: 8245 Precinct Line Rd #130, North Richland Hills, TX 76182
Phone: (817) 629-0879
Social: Trio New American Catering
Profile: Trio New American Catering
---
Contact : Jason
Contact :
Jason
Chef Andrew Huszar and his staff aim to present food that strikes up a conversation and leaves an impression on all of your guests. For over twenty-five years, they have specialized in catering for all types of wedding-related events, including showers, rehearsal dinners, receptions, and the ever-important post-wedding brunch. Tastefully Yours Catering will collaborate with you on a unique and creative menu that is suited to your wedding's style and vision while taking advantage of seasonal and locally sourced produce.
Address: 1959 W Southlake Blvd, Southlake, TX 76092
Phone: (817) 749-0896
Social: Tastefully Yours Catering
Profile: Tastefully Yours Catering
---
Contact : Andrew
Contact :
Andrew
Head West Catering offers complimentary tastings for up to four guests so that you can taste and experience all of the yummy treats that you would like to consider serving on your wedding day. It begins with a complimentary consultation so that you can discuss your vision and budget. Head West Catering will then offer suggestions based on your preference for buffet, plated, family-style, or serving stations. They have scrumptious entrée options, including Sangria Chicken or Glazed Pork tenderloin. Head West Catering can accommodate a wide variety of dietary restrictions and are happy to collaborate on unique menu ideas, emphasizing elegant Tex-Mex cuisine.
Address: 2629 N Main St, Fort Worth, TX 76164
Phone: (817) 626-3481
Social: Head West Catering
Profile: Head West Catering
---
Contact : Vicki
Contact :
Vicki
Founder Shirlee J. Gandy spent over three years renovating the Ashton Depot to bring it to its current illustrious state. Still, it is the hands of Executive Chef Cesar Gallegos where the culinary magic happens. They offer both on-site and off-site catering, including a selection of packages for bar and meals. The exciting food options can be presented buffet style, as food stations or plated. Hors d'oeuvres include red snapper ceviche or goat cheese mousse with fig marmalade and toasted walnuts. We love the thought of tucking into the street taco station with choices like grilled steak & green chili or chipotle and shiner marinated chicken.
Address: 1501 S Jones St, Fort Worth, TX 76102
Phone: (817) 810-9501
Social: The Ashton Depot Catering + Events
Profile: The Ashton Depot Catering + Events
---
Contact : Ashlee
Contact :
Ashlee
360 Catering and Events will tailor a menu specifically to your wedding style and culinary preferences. Whether you would prefer elegant fine dining or more laid-back do-it-yourself stations, these guys can make it happen with the utmost finesse. Their buffet packages include an entrée, sauce, salad, vegetable, starch, and fresh bread, as well as printed menus. 360 Catering and Events can accommodate a variety of dietary restrictions for your guests with prior consultation.
Address: 7455 S. Hulen St. Ste 120, Fort Worth, TX 76133
Phone: (817) 714-8996
Social: 360 Catering and Events
Profile: 360 Catering and Events
---
Contact : Cody
Contact :
Cody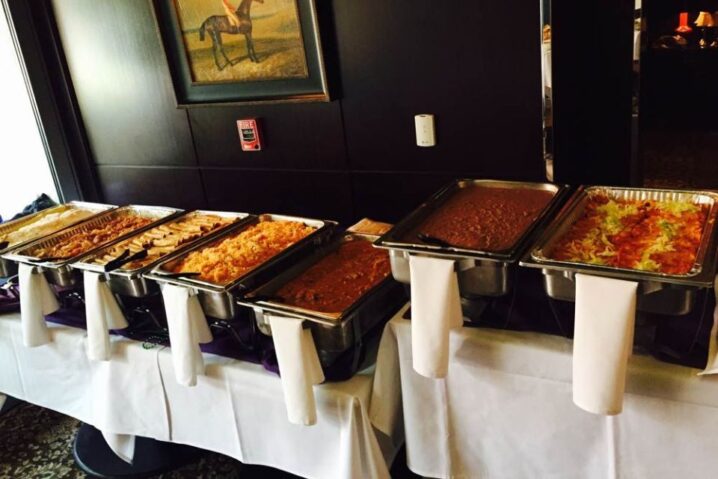 The tastes of Esperanza's Restaurant & Bakery have been served up to the people of Fort Worth, Texas since 1935. Still known for top-notch quality Mexican food that only uses the freshest of ingredients. Their catering services can accommodate small parties of twenty-five guests up to hundreds of your nearest and dearest. Delectable street taco bars, including appetizers of queso, pork tamales, beef chimichangas, and bacon-wrapped shrimp, will have your guests' mouths singing.
Address: 2122 North Main Street, Fort Worth, TX 76164
Phone: (817) 626-5770
Social: Esperanza's Restaurant & Bakery
Profile: Esperanza's Restaurant & Bakery
---
Contact : Jesse
Contact :
Jesse
Tim Love Catering is the perfect name for this award-winning catering company that offers an exciting range of dishes that focus on bold flavor combinations. Think about serving pork belly skewers or rabbit-rattlesnake sausage or perhaps tuna-watermelon popsicles. Acclaimed chef Tim Love will collaborate on dishes specifically tailored to your wedding that use fresh, local ingredients and will be sure to have your guests talking and mouths watering. This is one-of-a-kind food that packs some punch and keeps you going back for more.
Address: 713 N Main St, Fort Worth, TX 76164
Phone: (817) 995-1754
Social: Tim Love Catering
Profile: Tim Love Catering
---
Contact : Tim
Contact :
Tim
Since 2015, Chef Juan Rodriguez has brought his flair for the culinary arts to catered events and weddings in Fort Worth. He remains excited about using hyperlocal and seasonal ingredients that showcase the talents of Texan farmers, ranchers, fishers, and foragers. His passion for cooking is contagious, and he's always happy to chat about the ingredients and cooking methods with anyone interested. Magdalena's has a food truck that can be hired for your low-key wedding, or there are various wedding packages for plated or buffet-style meals. Options include pan-seared salmon with pineapple soy glaze or smoked beef tenderloin with blue cheese truffle oil cream. We are already starting to drool.
Address: 502 Grand Ave Suite A, Fort Worth, TX 76164
Phone: (817) 740-8085
Social: Magdalena's Catering & Events
Profile: Magdalena's Catering & Events
---
Contact : Juan
Contact :
Juan
Founder Emily Sauceda of Saucey's Catering has always had a passion for making flavorful food for her loved ones. She has turned this expertise into a flourishing business specializing in providing buffet-style catering to weddings and events in Fort Worth. Their personalized menus will be tailored to your wedding with plenty of healthy choices and options for guests with dietary restrictions. Being a smaller business, they understand how integral presenting excellent food is for their reputation, so they always aim to exceed your expectations while remaining affordable.
Address: 3789 N Beach St, Fort Worth, TX 76137
Phone: (469) 766-7439
Social: Saucey's Catering
Profile: Saucey's Catering
---
Contact : Amily
Contact :
Amily
Cherry on Top Catering and Events has been dishing out fantastic food in Forth Worth since 1984. They can provide buffet, plated or family-style serving for your guests, depending on your budget and preference. Alternatively, they have interactive stations, carving stations, food bars, and impressive charcuterie displays. The cuisine styles are varied and unique, from American to the Caribbean to Asian, so you can be sure to include your favorites from around the world.
Address: 5412 River Oaks Blvd, Fort Worth, TX 76114
Phone: (817) 994-7793
Social: Cherry on Top Catering and Events
Profile: Cherry on Top Catering and Events
---
Contact : Kathy
Contact :
Kathy
Conclusion
Determining whether you will have a plated meal, a buffet, or a wide selection of finger foods is often determined by your venue choice. However, your budget is also a significant determining factor. Shop around, and go for a caterer that meshes with your vision, and don't forget to check references.
Is your business featured in this article?
Copy the code below and place the code on your website to display the badge award on your website.