Top 10 Wedding Caterers in Las Vegas, NV
Your wedding day is one of the most memorable days of your life, filled with love, laughter, and emotions. When it comes to planning, it may be beneficial to leave all of your wedding catering responsibilities to a professional. Whether you want to host an intimate wedding party or a large celebration in Las Vegas, you can easily find the right wedding caterer for your big day.
Here's a list of the top 10 wedding caterers in Las Vegas, Nevada. Let's check out the post for details.
Best Wedding Caterers In Las Vegas
Art Of Cooking has been providing high-end catering services for all special events across Las Vegas since 2008. They are committed to excellence and can make your wedding event memorable for each of your guests. Anne Giron, the owner & creative director, has over a decade of experience in making events successful with her creativity. The team's priority is to offer a truly unforgettable culinary experience to all couples through detailed planning, the finest ingredients, presentation, and comprehensive customer services.
Address: 8490 West Desert Inn Rd Suite G3, Las Vegas, NV 89117
Phone: (702) 426-3193
Social: Art Of Cooking
Profile: Art Of Cooking
---
Contact : Anne
Contact :
Anne
Napoleon Bacerra launched Poppa Naps BBQ to bring the essence of authentic BBQ with flavorful food and exceptional services. It's a mobile BBQ and catering business. They can make your wedding a "hit" with their time-tested recipes, fresh sides, delectable smoked meats, and a great customer experience. This catering company has been in the business for over 10 years and are renowned for their excellent 'wedding catering' services in Las Vegas. Talk to the team and let them offer you the best BBQ you've ever tasted.
Address: 4030 Sorrento Way, Las Vegas, NV 89121
Phone: 619-757-4562
Social: Poppa Naps BBQ
Profile: Poppa Naps BBQ
---
Contact : Napoleon
Contact :
Napoleon
Since 1991, At Your Service Catering has provided Las Vegas and Southern Nevada people with high-end culinary creations and designs. The catering specialists' team can bring your wedding vision to life with full-service catering services tailored to your specific needs and budget. You can rely on them for everything from menu creation to food preparation to set-up to serving to clean-up and more. Their seasoned chefs and other staff members can assist you in absolutely any way to make your event a reflection of your vision.
Address: 633 N Decatur Blvd, Las Vegas, NV 89107
Phone: (702) 870-1502
Social: At Your Service Catering
Profile: At Your Service Catering
---
Contact : Dominic
Contact :
Dominic
For over 20 years, Diamonds Events is a full-service catering company based in Las Vegas. They offer everything from buffets to sit-down arrangements to drop-off delivery at your desired location to help you host a rocking wedding party. The team consists of professional chefs, suppliers, servers, and other people who will assist you from menu creation to clean-up. They offer predetermined as well as custom packages to suit your style and budget. Talk to the team and discuss what type of catering services you expect from them, whether off-site or on-site.
Address: 3185 S Highland Dr #1, Las Vegas, NV 89109
Phone: (702) 210-9715
Social: Diamonds Events and Productions
Profile: Diamonds Events and Productions
---
Contact : Maurice
Contact :
Maurice
Celebrate your big day in elegance and style with Soirees, a premier catering service in Las Vegas that has been taking care of people for over 38 years. They offer unique & delicious menus tailored to fit your needs and event size. The team collaborates with every couple to help them create an affair to remember. They have helped hundreds of couples make and serve delicious meals. Their chefs focus on crafting custom menus with satisfaction and originality. The team's creative selection of meals and beverages, along with attractive presentations, can make your day unforgettable.
Address: 5165 West Oquendo Road, Las Vegas, NV 89118
Phone: (702) 364-0065
Social: Soirees
Profile: Soirees
---
Contact : Lisa
Contact :
Lisa
Renaissance Catering is a group of professionals that prepares tasty food and can guide you through finalizing linen and china to design a perfect wedding day. This is a professional and experienced catering firm delivering amazing dishes and customer services to everyone for years. They follow a unique approach to prepare wedding day food, perfect for those who like flavors and a wow factor. The team can design the menu to fit your particular taste, theme, and budget. Their catering team of talented professionals is solely focused on offering the best catering services for your wedding. For additional details, talk to the team now.
Address: 4255 Dean Martin Dr, Las Vegas, NV 89103
Phone: (702) 367-2277
Social: Renaissance Catering
Profile: Renaissance Catering
---
Contact : Reymundo
Contact :
Reymundo
If you're looking for a well-established and versatile catering service, feel free to contact Chef Lisa Las Vegas – Chef@YourHome. Chef Lisa is a culinary specialist who learned her skills from the kitchen of her Sicilian grandmother. She has had a passion for learning and creating new dishes since her childhood. In 2008, Lisa was honored with "The Most Innovative Chef in Las Vegas" and featured in VEGAS Magazine in 2010 for her remarkable work in the catering world. She can bring creativity and quality to your wedding food and serve any group size from 10 to 250. Book your appointment to discuss your wedding details in person.
Address: Las Vegas, Nevada
Phone: (702) 544-1044
Social: Chef Lisa Las Vegas - Chef@YourHome
Profile: Chef Lisa Las Vegas - Chef@YourHome
---
Contact : Lisa
Contact :
Lisa
T&D Caters is a team of skilled specialists who have been in the culinary industry for over 10 years. With extensive experience, they are equipped with the knowledge and expertise of preparing a wide range of different cuisines. The team's goal is to provide outstanding dishes and excellent services to you and your guests, no matter what. They offer multiple styles, from delectable hors d'oeuvre with drinks to a beautiful buffet to a plated course dinner and more to suit your specific needs. The team can fulfill all your demands by offering personalized and exceptional services.
Address: 9685 Brooks Lake Ave, Las Vegas, NV 89148
Phone: (702) 927-0641
Social: T&D Caters
Profile: T&D Caters
---
Contact : T&D Caters
Contact :
T&D Caters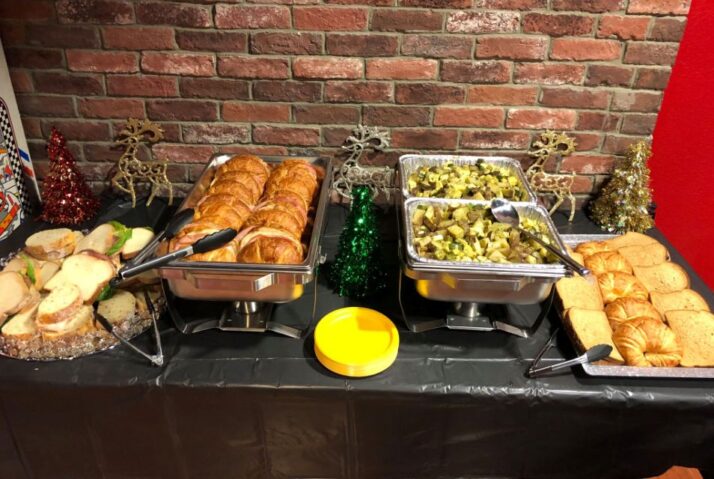 Based in Las Vegas, Aunty Helen's Kitchen specializes in delivering homemade and fresh food. Helen uses her skills to create a menu and make dishes that work for everyone at your wedding. Their goal is to bring people closer by offering tasty food and high-end services. She can bring joy to your special day with a custom menu designed as per your taste. They provide an excellent selection of tasty dishes from appetizers to main dishes to buffets to desserts and more to delight every taste bud. The team uses fresh ingredients to prepare different foods to fit every occasion, including rehearsal dinners, wedding ceremonies, and reception.
Address: 3501 Shady Timber St, Las Vegas, NV 89129
Phone: (702) 901-2602
Social: Aunty Helen's Kitchen
Profile: Aunty Helen's Kitchen
---
Contact : Helen
Contact :
Helen
Bullseye Catering Company is a full-service team of caterers well-equipped to manage all your wedding details. They specialize in all kinds of cuisines, from special appetizers to gourmet boxed lunches to BBQ to lasagna duo to cajun trio and more. The team's mission is to serve absolutely fresh, delicious food to couples and their loved ones, adhering to the requirements of your special event. They aim for perfection at everything they do, and with over 30 years of experience you can trust the Bulls Eye team to exceed your expectations. Hire them today and let their professionals handle every aspect from start to finish.
Address: 2987 N Las Vegas Blvd, North Las Vegas, NV 89030
Phone: (702) 660-5544
Social: Bullseye Catering
Profile: Bullseye Catering
---
Contact : Gail
Contact :
Gail
Conclusion
Hiring the right caterer for your wedding doesn't have to be an overwhelming task. Finding a professional wedding caterer in Las Vegas can help you make the most of your magical day. Each of the wedding caterers we have listed on our list offers unmatched services. Just compare these options and choose the one you find suitable for you.
Is your business featured in this article?
Copy the code below and place the code on your website to display the badge award on your website.