Atlanta's Top 10 Wedding Hair and Makeup Artists (2020)
EDITOR'S CHOICE: We've handpicked the best of the best Wedding Hair and Makeup artists in Atlanta, GA to help you pick the right one for your big day.
With so many reasons why you should be hiring a team of experts for your makeup and hair on your wedding day, finding the right fit is another task that you might be dreading.
The right artist can make your wedding day go smoothly with all the chaos that might be taking place. When you're investing a lot of money into your wedding photos, you want to look your absolute best alongside your bridal party. 
If you're ready to take the leap into some of these talented artists for your special day featured in Atlanta, take a look at their portfolio and start researching the right fit for your bridal look.
For an experienced and trusted bridal beauty team of highly trained hair and makeup artists, Brushworx is a multi-award-winning team for the latest flawless and long-lasting bridal makeup and hair looks. Right at the comfort of your location, the bridal glam team has served over 200 brides a year since 2006. Booking your trial run for your wedding day will take out all of the stress and chaos of your bridal makeup and hair. The team is seasoned at taking care of every detail of each bride for a smooth experience.
Address: Atlanta, GA 30328
Phone: (678) 468-2127
Instagram: Brushworx
Facebook: Brushworx
Profile: Brushworx
---
Contact : Christine
Contact :
Christine
As a celebrity makeup artist with over 20 years in the industry, Kiev Osborne began The Makeup Unlimited as a beauty studio for brides and bridal parties. She's mastered her signature bridal makeup and hairstyle to create a once in a lifetime look. Your hair and makeup will look out of this world stunning with her immense experience working with high profile celebrity clients. Have a large bridal party group? Her studio is ready to accommodate groups of any size.
Address: 1830 Piedmont Avenue NE Suite D, Atlanta, GA 30324
Phone: (404) 425-2229
Instagram: The Makeup Unlimited
Facebook: The Makeup Unlimited
Profile: The Makeup Unlimited
---
Contact : Kiev
Contact :
Kiev
For a hair and makeup team that works on-location, Laura Cross Makeup Artistry delivers expert bridal services at your venue, hotel, or wherever you're getting married! Trial sessions are also available on-location so you don't have to worry about traveling to salon appointments, just relax and get pampered! You and your bridal party will be looking like a million bucks with a talented team of artists.
Address: Baker St, Atlanta, GA 30313
Phone: (706) 424-2897
Instagram: Laura Cross Makeup Artistry
Facebook: Laura Cross Makeup Artistry
Profile: Laura Cross Makeup Artistry
---
Contact : Laura
Contact :
Laura
Get all of your makeup and hair needs to be met with Lace's talented team of artists. Have your own customized makeup look with their on-location artists serving the metro-Atlanta area. With their team being as diverse as their bridal clients, your custom skin and hair needs will be met with each look. Even if you're used to wearing very little to no makeup, Lace's artists can create a very natural look with minimal makeup so you will not feel heavy or caked.
Address: 2382 Bolton Road NW, Atlanta, GA 30318
Phone: (404) 723-6337
Instagram: Lace Cosmetics
Facebook: Lace Cosmetics
Profile: Lace Cosmetics
---
Contact : Amanda
Contact :
Amanda
With her love for artistry and makeovers, founder Megan found her true passion for making her brides feel beautiful through styling and makeup. Beauti Elite now has a team of on-location artists ready to make you look like a glamourous bride. Her list of bridal services includes hair, makeup for the bride, bridesmaids, and flower girls. Megan and her team will put your entire wedding party at ease with their professional artists to bring you exactly what you envisioned as a bride.
Address: 2400 Parkland Dr NE, Atlanta, GA 30324, United States
Phone: (404) 465-3343
Instagram: Beauti Elite
Facebook: Beauti Elite
Profile: Beauti Elite
---
Contact : Megan
Contact :
Megan
As one of Atlanta's best luxury full-service hair salons located in the heart of Midtown, Reel Creative Hair provides the best high-quality services for both the bride and groom on their wedding day. Available for both in-salon and on-location, owner and celebrity stylist Jacquelyn established her team with one mission in mind, to create a luxury private atmosphere. Her expertise and bridal services will give you the best experience and look you want, without the buzz of an over-crowded salon.
Address: Phenix Salon Suites-Midtown, Atlanta, GA 1075
Phone: (404) 200-5220
Instagram: Reel Creative Hair
Facebook: Reel Creative Hair
Profile: Reel Creative Hair
---
Contact : Jaquelyn
Contact :
Jaquelyn
Ever since the start of his professional career, Oliver Ramon has been a member of many bridal teams. With working on countless bridal expos, he became an expert in the strategy of veil placement and glowy natural makeup. His high standard in bridal hair and makeup has created a group of passionate creatives for his artistry team. Your wedding look will be coordinated alongside your wedding planner to organize a complete beauty itinerary that will keep the flow with the first looks.
Address: Atlanta, GA 30326
Phone: (877) 455-9988
Instagram: Oliver Ramon Bridal
Facebook: Oliver Ramon Bridal
Profile: Oliver Ramon Bridal
---
Contact : Oliver
Contact :
Oliver
Jennifer Adams, owner of Formal Faces has been working on wedding hair and makeup since 1995. Formal Faces began in 1998 and offers on-location wedding hair and makeup services to brides and their wedding parties to Atlanta and other surrounding areas. For long-lasting makeup, lashes, and hair extensions, the award-winning 13-person bridal team has been extensively trained in both hair and makeup to create the perfect style to fit your wedding dress.
Address: 1847 Trilogy Park Drive, Atlanta, GA 30309
Phone: (770) 682-7627
Instagram: Formal Faces
Facebook: Formal Faces
Profile: Formal Faces
---
Contact : Jennifer
Contact :
Jennifer
With her specialty in makeup and hair for weddings, fashion, and photoshoots, owner Brielle Brenner has worked alongside top tier celebrities to create extraordinary looks. With her reputation working with some of the elite, she has an eye for details when it comes to bridal wedding looks. As an on-location bridal service, her team is ready to come to you and create your dream makeover.
Address: Boulevard NE, Atlanta, GA 30308, United States
Phone: (404) 919-1806
Instagram: Brielle Brenner Makeup & Hair
Facebook: Brielle Brenner Makeup & Hair
Profile: Brielle Brenner Makeup & Hair
---
Contact : Brielle
Contact :
Brielle
For the perfect fusion of professionally trained and dedicated artists, BLEND Beauty Group is available to travel on-site the day of your special event. The team of artists' main goal is to provide high-quality bridal wedding services with their signature airbrush application to ensure a seamless finish for high definition photography. Before your big day, a pre-trial appointment should be set 30 to 60 days before so make sure your ideal look meets your needs.
Address: Atlanta, GA 30309
Phone: (770) 629-9724
Instagram: Blend Beauty Group
Facebook: Blend Beauty Group
Profile: Blend Beauty Group
---
Contact : Tymeka
Contact :
Tymeka
Conclusion
You deserve to feel stunning and beautiful and most importantly relaxed on your big day. Whether you want to give yourself a full makeover or want to look like yourself as a bride, these talented groups of artists will make your dream wedding looks come to life. You want to look back at your wedding photos and have an everlasting memorable day, with beautiful hair and makeup to match!
Is your business featured in this article?
Copy the code below and place the code on your website to display the badge award on your website.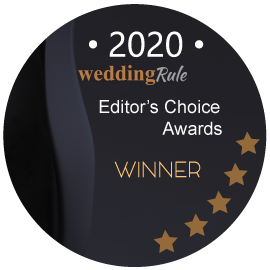 Amanda Sven is the chief content editor at WeddingRule. With over 6 years experience with planning weddings in different parts of the US, Amanda is an expert at all things weddings.