Top 10 Wedding Hair and Makeup in Colorado Springs, CO (2020)
EDITOR'S CHOICE: We've handpicked the best of the best Wedding Hair and Makeup artists in Colorado Springs, CO to help you pick the right one for your big day.
Congratulations on your engagement! Now that you've got everything planned for your big day, you're undoubtedly starting the search for the perfect outfit to wear as your exchange vows with your other half. No matter whether you're planning to wear an awe-inspiring gown or an eye-catching suit, however, one thing you will need to do is make sure that your hair and makeup are perfect. 
That's where the professionals come in. While you can do your hair and makeup on your own for your wedding day, you deserve to be pampered on one of the biggest days of your life. This means being able to sit back, relax, and let someone else do the work.
A team of hair and makeup professionals will be able to make sure you look the best you possibly can, while removing all the stress that doing it yourself brings. They'll also be able to help your wedding party with beauty help if necessary, so when you look at your wedding album, all you'll be concentrating on is how fairytale-like your big day was. To make the search easier, we have curated a list of the top wedding hair and makeup professionals in Colorado Springs, Colorado.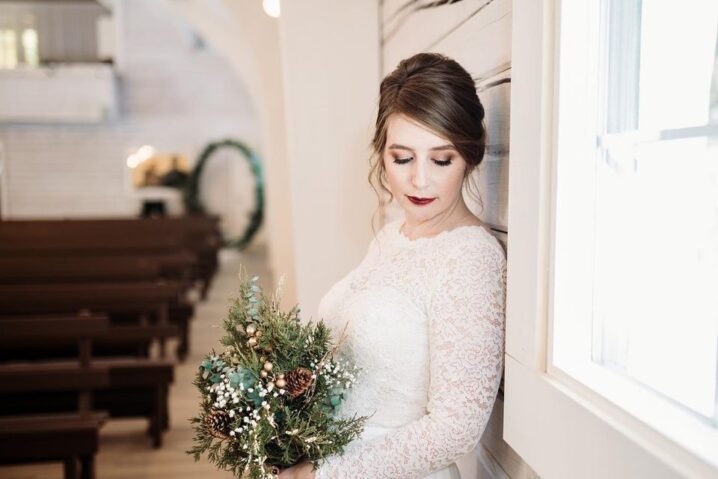 As Colorado Springs preferred on-location hair and makeup team, EléPosh can serve you and your entire bridal party with their talented and experienced artists and stylists. With years of combined experience in hair and makeup artistry, your vision of elegance and style will be brought into reality. Before your special moment, a trial session is important to determine your perfect wedding look with their professional stylists. You'll end up falling in love with your consultation session!
Address: 2708 B W Colorado Ave, Colorado Springs, CO 80904
Phone: (719) 640-6885
Instagram: EléPosh
Facebook: EléPosh
Profile: EléPosh
---
Contact : Brianna
Contact :
Brianna
Michelle Royal and her growing team of bridal makeup artists and hairstylists are ready to serve you in Colorado Springs. Royal Makeup and Hair provides on-location bridal beauty services that can accommodate large bridal parties and multiple same-day bookings. Michelle's training experience includes a variety of makeup and hair-care brands and application techniques, including airbrush and special effects. With their focus on bridal and bridal party services, the team uses h quality tools and products for your hair and makeup to last the entire day.
Address: Colorado Springs, Colorado
Phone: (860) 978-8009
Instagram: Royal Makeup & Hair
Facebook: Royal Makeup & Hair
Profile: Royal Makeup & Hair
---
Contact : Michelle
Contact :
Michelle
With her passion for makeup and to make people feel their absolute best, Brooke Kelly Rawls is a Certified Makeup Artist in Colorado Springs who founded Bk Blush Beauty. Whether you're looking to book your bridal services or to beautify your entire wedding party, her talented team of artists and stylists are ready to accommodate groups of any size. 
If you love a natural glam look that's subtle or wants a dramatic look, you'll find your perfect style that compliments your bridal look.
Address: 3510 Clubheights Dr, Colorado Springs, CO 80906, United States
Phone: (317) 902-8157
Instagram: Bk Blush Beauty
Facebook: Bk Blush Beauty
Profile: Bk Blush Beauty
---
Contact : Brooke
Contact :
Brooke
If you want to add a little sparkle to your wedding look, Janine Johnson is a certified and award-winning makeup artist with over 20 years of experience in the beauty industry. She also provides all hair services for your special day to save you time, frustration, and money. The MUAH by J team is full of creative artists to help you put together your timeless bridal look.
Address: 630 North 19th St Colorado Springs, CO
Phone: (719) 271-6616
Instagram: MUAH by J – Makeup & Hair Artistry
Facebook: MUAH by J – Makeup & Hair Artistry
Profile: MUAH by J - Makeup & Hair Artistry
---
Contact : Janine
Contact :
Janine
If you can't seem to find the right artist to create an exquisite bridal beauty makeover on your special day, the dream team of makeup artist and hairstylists at The Day Colorado are ready to make your dream come true. The award-winning beauty team of professionals are available on-location to create beautiful bridal hairstyles and makeup. The experienced team will make sure your day runs smoothly to accommodate wedding parties of all sizes in a timely, efficient and professional manner.
Address: Colorado Springs, CO 80904
Phone: (719) 433-5530
Instagram: The Day On Location Beauty
Facebook: The Day On Location Beauty
Profile: The Day On Location Beauty
---
Contact : Brandi
Contact :
Brandi
The beautifying genius behind Blush Dry Bar Salon, Brandi Martinez opened the salon in 2018 with a focus on blowouts, makeup, eyelash extensions, and hair extensions for brides and all clients. Her experienced team of artists is ready to pamper you on your big day at their modern spacious salon. The salon is roomy enough to accommodate your bridesmaids and flower girls to give them a beautiful makeover.
Address: 1505 S Tejon St Colorado Springs, CO
Phone: (719) 896-4492
Instagram: Blush Dry Bar Salon
Facebook: Blush Dry Bar Salon
---
Contact : BRANDI
Contact :
BRANDI
For ease and convenience of an on-location makeup artist, Carly Day is a licensed makeup artist based in Colorado Springs with over 12 years of experience. Carly provides a luxury experience on your wedding day to make you feel like starlight. Her use of the finest high-quality makeup in her kit ensures your look will last through all of the tears, laughs, and smiles without a smudge.
Address: 2275 Calistoga Dr, Colorado Springs, CO 80915
Phone: (720) 937-7814
Instagram: Carly Day Makeup
Facebook: Carly Day Makeup
Profile: Carly Day Makeup
---
Contact : Carly
Contact :
Carly
Professional Makeup Artist and licensed Esthetician, Jessica Faye has her specialty in makeup for brides in Colorado Springs. With over 10 years of experience, she opened for business in March 2017 for brides wanting a variety of pampering services. She continues to stay educated with trainings to grow her skills in esthetics and cosmetics.  Whether you're looking for an on-site makeup artist or prefer to visit her serene salon on West Colorado Avenue, she offers a wide array of beauty services including waxing, custom facials, chemical peels, as well as lash and brow tinting. If you're looking for a natural bridal look, she's the one to go to!
Address: 2708 B West Colorado Ave Colorado Springs, CO 80904
Phone: (719) 304-6375
Facebook: Jessica Faye Beauty
Profile: Jessica Faye Beauty
---
Contact : Jessica
Contact :
Jessica
As Colorado's premier provider of customized, on-location bridal makeup application, Allie Underwood and her assistants are certified, professional makeup artists with years of experience in cosmetics. She provides both traditional and airbrush makeup applications use only the highest quality, professional-grade, photograph-friendly products. As a completely mobile artistry service, her team is available anywhere you need her to be. Her love for her artistry and passion for the business is evident in her bridal clients.
Address: Manitou Blvd. Colorado Springs, CO 80904
Phone: (719) 233-0803
Facebook: Allie Underwood Makeup Artistry
Profile: Allie Underwood Makeup Artistry
---
Contact : Allie
Contact :
Allie
A professionally licensed cosmetologist, Lily Adkins has been devoted to making women feel and look their absolute best on their wedding day. With 8+ years in the industry, she has been passionate about creating exquisite bridal beauty that looks like no other. She caters to all different types of brides and bridesmaids to bring you the ultimate wedding experience. Whether you require airbrush makeup application or hair extensions, Lily has you covered.
Address: 7674 McLaughlin rd suite 5 Peyton, CO 80831
Facebook: Lily Adkins Hair & Makeup Artistry
Profile: Lily Adkins Hair & Makeup Artistry
---
Contact : Lily
Contact :
Lily
Conclusion
If you've been spending hours upon hours looking through wedding inspirations for the perfect makeup and hairstyle, have your vision come to life with our list of top bridal artists and stylists. There is no better peace of mind than knowing exactly what to expect on your wedding day. We don't like terrible surprises, do we? Book your consultation session 1-2 months prior, this trial will help guide you to feel comfortable and radiant from vows to the reception. What more could we ask for?
More Wedding Hair Makeup in Colorado
Is your business featured in this article?
Copy the code below and place the code on your website to display the badge award on your website.
Emma is the client services manager at WeddingRule.com. She has previously worked with Australia's biggest weddings website, Wedding Diaries.