Top 10 Best Wedding Cake Bakers in Houston, TX
Choosing a wedding cake is undoubtedly one of the more delicious choices to be made when planning a wedding and one where even a lackadaisical partner can be coerced into joining in the fun. Cake tastings can be a significant bonding moment for you and your fiancé. Date nights with six different desserts sound like a fantastic night in!
The wedding cake bakers on our list are the best in Houston, Texas. However, they are still incredibly diverse in their preference of styles, flavors, and decorations. Have a look through their websites and social media and see which of their cakes makes your mouth water in anticipation.
Few businesses in America of any type have the history and heart of Three Brothers Bakery. Now run by the second generation of one of the original brothers, we are sure that their Polish ancestors would be proud beyond measure. What's more, they make fantastic cakes, bread, and pastries, which is why they have continued to expand since opening in 1949. Today, the wedding cakes on offer at three Brothers Bakery are stunning works of art that are fit for the pages of any bridal magazine. We couldn't even nail down one specific decoration type as they seem to be able to do it all. Check out their grooms' cakes while you're at it for some incredibly fun inspiration.
Address: 4036 S Braeswood Blvd, Houston, TX 77025
Phone: 713-666-2253
Social: Three Brothers Bakery
Profile: Three Brothers Bakery
---
Contact : Bobby & Janice
Contact :
Bobby & Janice
Cakes by Gina opened its doors in 2003 and has been providing Houston with superb wedding and celebration cakes ever since. Whether you are after the latest hand-painted trend or a 3D cake that matches your theme perfectly, we don't doubt that Gina can pull it off. Wedding cakes require a 25% deposit to hold your date, and cake tasting can be arranged by appointment. Don't forget to bring your vision board or Pinterest ideas, since Gina is keen to collaborate and design a cake that no one in Houston has ever seen before.
Address: 14165 Bissonnet St Suite M, Houston, TX 77083
Phone: 281-495-9400
Social: Cakes by Gina
Profile: Cakes by Gina
---
Contact : Gina
Contact :
Gina
There is little doubt that Nadine Moon and her customers overhead whispers of 'who made the cake?' long before her business became a reality. In fact, we have seen thousands of wedding cakes in our time, and Nadine's cake designs still make our jaws drop and our mouths water with anticipation. This multi-award-winning company has been featured on national television numerous times, and the creations never cease to amaze with their gravity-defying heights. Nadine prides herself on not only creating cakes that look amazing but taste fantastic. There are no less than twenty different cake flavors and twenty-six different fillings, and we haven't even got to the frostings yet. Computing the number of options is beyond us, but we know they will each be superb.
Address: 1811 S Shepherd Dr, Houston, TX 77019
Phone: 713-528-4719
Social: Who Made the Cake!
Profile: Who Made the Cake!
---
Contact : Nadine Moon
Contact :
Nadine Moon
Wedding Cakes by Tammy Allen specialize in cakes, so they know just how critical it is to get your cake just right. Your chosen design will be on display for all to see at the reception and then hold pride of place in your wedding pictures for a lifetime. Once you slice into your cake, and perhaps coyly smear a bit of icing on your new spouse's lips, you'll find out how delicious Tammy's cakes are. By using only the exceptional ingredients and their signature flavors, Wedding Cakes by Tammy Allen has been able to intertwine beautiful detail with delectable taste combinations.
Address: 7710 Cherry Park Dr B, Houston, TX 77095
Phone: 281-861-7995
Social: Wedding Cakes by Tammy Allen
Profile: Wedding Cakes by Tammy Allen
---
Contact : Tammy Allen
Contact :
Tammy Allen
Carla started Whisk Bakery in 2014 after many years honing her craft by working under some of the best bakers and caterers in Houston. She also studied to receive her Bachelor of Science, so she knows what she's talking about when it comes to chemistry in the kitchen. Cake tastings can be arranged for up to four people, and a portion of the cost for the same will be reimbursed towards a wedding cake order. Choose from your favorite three cake flavors, two fillings, and two frostings, and then dive in. Whisk Bakery specializes in romantic, whimsical cakes that are timeless by design.
Address: 6104 San Felipe St #2, Houston, TX 77057
Phone: 713-303-8118
Social: Whisk Bakery
Profile: Whisk Bakery
---
Contact : Carla
Contact :
Carla
Supreme Kakes & More is a Houston-based bakery specializing in wedding and celebration cakes and cupcakes and delicious fruity desserts for buffets. Your imagination is the only limitation when collaborating with Supreme Kakes & More, so we recommend that you arrive with printed copies of your preferred designs and anything relating to your wedding décor. Don't feel silly bringing your invitations, color swatches, or table designs, as these can all help make a cohesive look. There are dozens of flavors to choose from, but our standout favorite has got to be their Supreme Cake, which has a caramel filling and a layer of phyllo dough with Bavarian cream in a yellow cake. Simply scrumptious!
Address: 14520 Memorial Dr # 28, Houston, TX 77079
Phone: 281-496-1000
Social: Supreme Kakes & More
Profile: Supreme Kakes & More
---
Contact : Veronica Anaya
Contact :
Veronica Anaya
Bavarian Cakery is famous in Houston for their Signature Bavarian Cheesecake. They are even able to incorporate this divine dessert into their wedding cakes in your choice of chocolate or rich vanilla. Then imagine it huddled between layers of fresh fruit, puree or liqueur, and any of their cake flavors. Sugar-free and gluten-free cakes are on offer, which can be tried at the cake tasting with prior arrangement. Bavarian Cakery also makes gorgeous decorated sugar cookies, cake pops, truffles, and macarons that can be themed to your big day with specialized colors and designs.
Address: 8815 Solon Road, Unit F2, Houston, TX 77064
Phone: 281-469-3116
Social: Bavarian Cakery
Profile: Bavarian Cakery
---
Contact : Tara James Little
Contact :
Tara James Little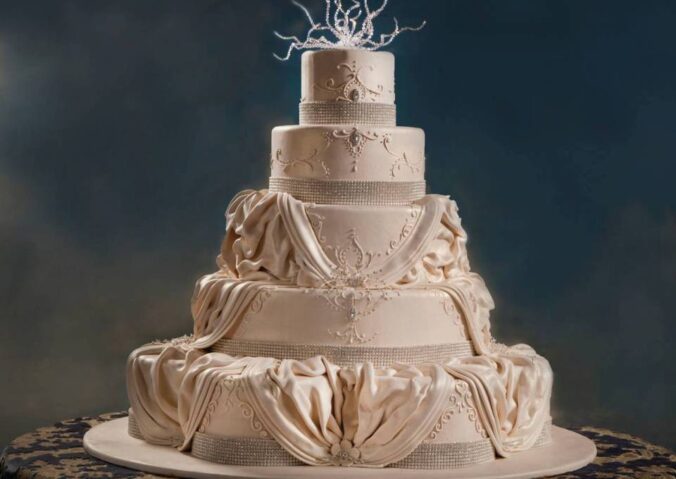 For over two generations, Susie Edwards of Susie's Cakes & Confections has been showcasing her Argentinian baking talent to the people of Houston. Indeed, her cakes taste amazing; however, it is the exquisite detail that will catch you by surprise. Expect minute details with perfectly placed pearls and the most delicate lace made out of sugar. Many of her grooms' cakes are so realistic that we can't imagine they are filled with delicious cakes and creams. Cake tasting and consultations are arranged by appointment only and be sure to bring in your ideas and inspiration.
Address: 12280 Westheimer, Suite 6A, Houston, TX 77077
Phone: 281-493-3222
Social: Susie's Cakes & Confections
Profile: Susie's Cakes & Confections
---
Contact : Susie Edwards
Contact :
Susie Edwards
Nancy's Cake Designs has various Signature Cakes, like the blooming floral elegance of the Aurora Cake or the Art Deco-inspired Juliet Cake. These traditional cakes are an excellent springboard for checking your preferences; however, Nancy's Cake Designs can design just about any cake you can dream of. Naked cakes, lacy cakes, dual designed cakes, and floral cakes are all on offer, along with their vast array of flavors and fillings. A 30% deposit is required to save your date, with the remainder being due one week before your wedding day.
Address: 6969 Gulf Freeway #455, Houston, TX 77087
Phone: 713-644-9505
Social: Nancy's Cake Designs
Profile: Nancy's Cake Designs
---
Contact : Nancy
Contact :
Nancy
Dawn and the crew at For Heaven's Cake are always keen to collaborate and come up with wedding and groom's cakes that are entirely in tune with your celebration. Whether you are traditional or modern, wacky or reserved, they can ensure that your cakes will be delicious and beautiful. Signature flavors include strawberry, red velvet, pineapple, or spice, and gluten-free options include almond, vanilla, or cinnamon roll. However, that is just a tiny selection of their cake and frosting flavor combinations, so speak to them about booking a tasting to try your favorites.
Address: 17488 NW Freeway, Houston, TX 77040
Phone: 832-876-9197
Social: For Heaven's Cake
Profile: For Heaven's Cake
---
Contact : Dawn Bradley
Contact :
Dawn Bradley
Conclusion
It's quite universal that one partner is more involved than the other with the planning process when planning a wedding. However, it isn't challenging to get volunteers on board when tasting cakes and confections. We hope that you use this time to create a flavor combination that is unique to you two as a couple.
Is your business featured in this article?
Copy the code below and place the code on your website to display the badge award on your website.