10 of the Best Wedding Venues in Buffalo, NY (2022)
If you're in Buffalo, NY, and are worrying about finding the perfect venue for your wedding, then here's some good news for you. Finding the right venue in Buffalo is anything but difficult. As the second-largest city in the state of New York, there are a plethora of options ready to be adorned for your big day. 
From majestic ballrooms to country-style outdoor venues, there is a venue for every couple. All it would take is a bit of research for you to find the venue of your dreams.
To help with your research, here is our list of the Editor's Choice top 10 best wedding venues in Buffalo: 
Popular Regions near Buffalo: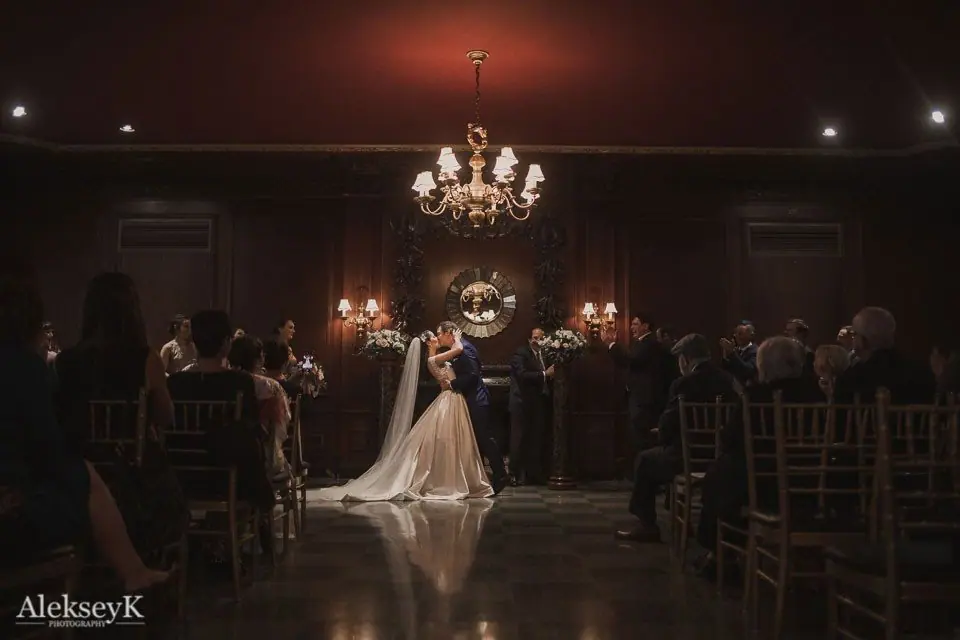 Statler City is a timeless, elegant venue with intricate architectural details and sophisticated décor that will leave you in awe. If you're looking for rich history and elegance in one place, then this is the finest wedding venue for you. 
Statler City has four event spaces. The majestic Golden Ballroom is the largest one of the 4 spaces, with a seating capacity of 450 guests. The Terrace Room and the Niagara Room can seat up to 220 and 140 guests each, respectively. The Georgian Ballroom can accommodate a smaller number of guests compared to the other spaces and is a perfect choice for an intimate gathering. 
A wedding at the Statler City is nothing short of spectacular. At Statler City, from event coordination to catering and bar services, everything is taken care of. Also, they offer tons of complementary services like a dedicated wedding coordinator, valet service, and entree tasting,  to name just a few.
Address: 107 Delaware Ave, Buffalo, NY 14202
Phone: 716-853-3300
Facebook: Statler City
Instagram: Statler City
---
Contact : Mark Croce
Contact :
Mark Croce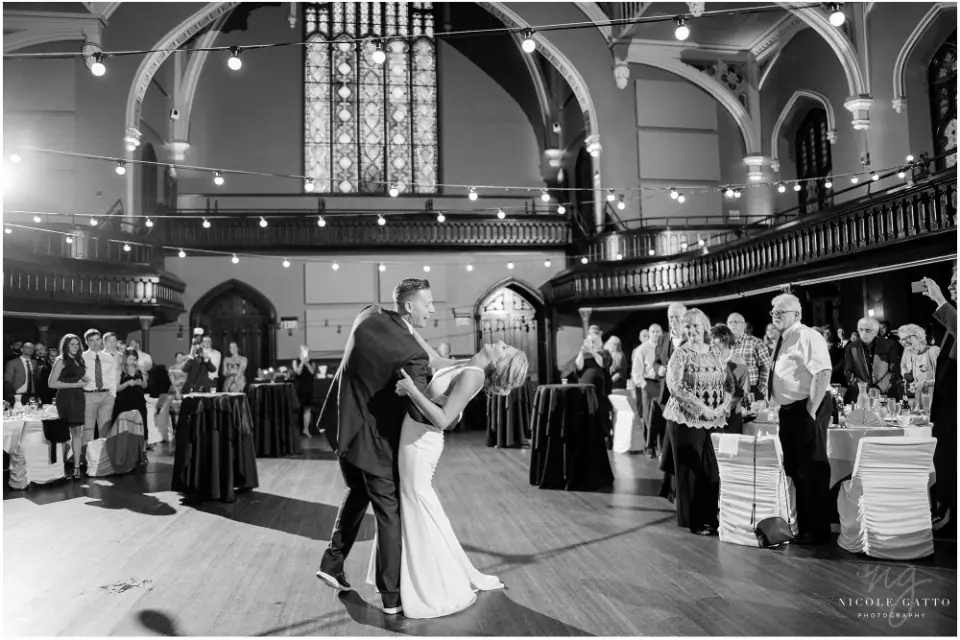 Babeville, originally a church, is a multi-purpose facility located in the heart of Buffalo's Theater District. It took 10+ years and millions of dollars to revamp it into a wedding venue that both art lovers and music enthusiasts praise alike. 
The Asbury Hall at Babeville is the largest space with a capacity of up to 230 guests, featuring 45-foot-high ceilings, a fixed stage, a modern sound system, and a wrap-around balcony. There's the Ninth Wards, a basement bar with a removable stage for intimate celebrations. 
They offer numerous services for a stress-free wedding, including event planning, in-house catering, bridal suites, and more. The venue is steps away from hotels, restaurants, and some historic sites if your guests wish to explore around.
Address: 341 Delaware Ave, Buffalo, NY 14202
Phone: 716-228-1851
Facebook: Babeville
Instagram: Babeville
---
Contact : Austin Scaccia
Contact :
Austin Scaccia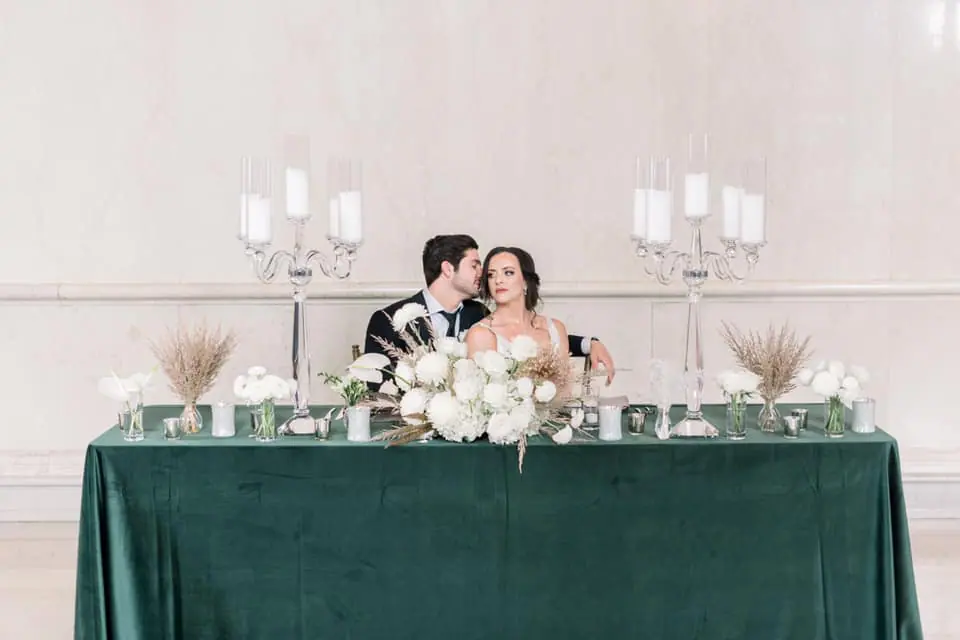 The Admiral Room is Western New York's most exquisite venue that aims to leave a lasting impression with the majestic grandeur of its architecture and unparalleled service. From their planners to their coordinators and from food to drinks, everything is top-notch. 
The picturesque interior with tall windows, high ceilings, and classic pillars offers several moments that you would love to capture. Whether you plan for an intimate wedding ceremony for 50 guests or a grand reception for 300 guests, they will make the process a breeze.
Address: 237 Main St, Buffalo, NY 14203
Phone: 716-842-0502
Facebook: Admiral Room
Instagram: Admiral Room
---
Contact : Joshua Poblocki
Contact :
Joshua Poblocki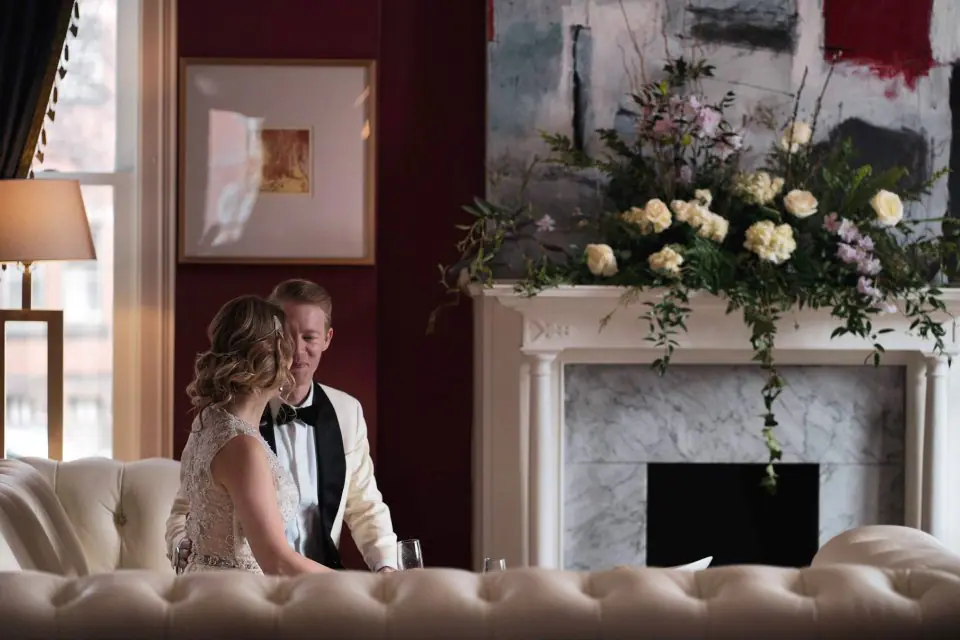 Boasting 19th Century architecture, The Mansion is a sophisticated venue where classic simplicity meets turn-of-the-century extravagance. Buy out the entire hotel for a weekend-long wedding or simply rent out one of their several event spaces for a one-of-a-kind wedding experience. 
The Grand Salon is their largest space featuring floor-to-ceiling windows and can hold up to 200 guests. Salon Hugo, Salon Allison, and The Library are suitable for smaller gatherings. 
On the other hand, Garden Terrace can be used as an extension to the other spaces or rented for a beautiful ceremony. Besides wedding planning, they also offer in-house catering and bar services. With their award-winning butlers and dedicated events team by your side, you have nothing to worry about on your big day.
Address: 414 Delaware Ave, Buffalo, NY 14202
Phone: 716-886-3300
Facebook: The Mansion on Delaware Avenue
Instagram: The Mansion on Delaware Avenue
---
Contact : The Mansion on Delaware Avenue Team
Contact :
The Mansion on Delaware Avenue Team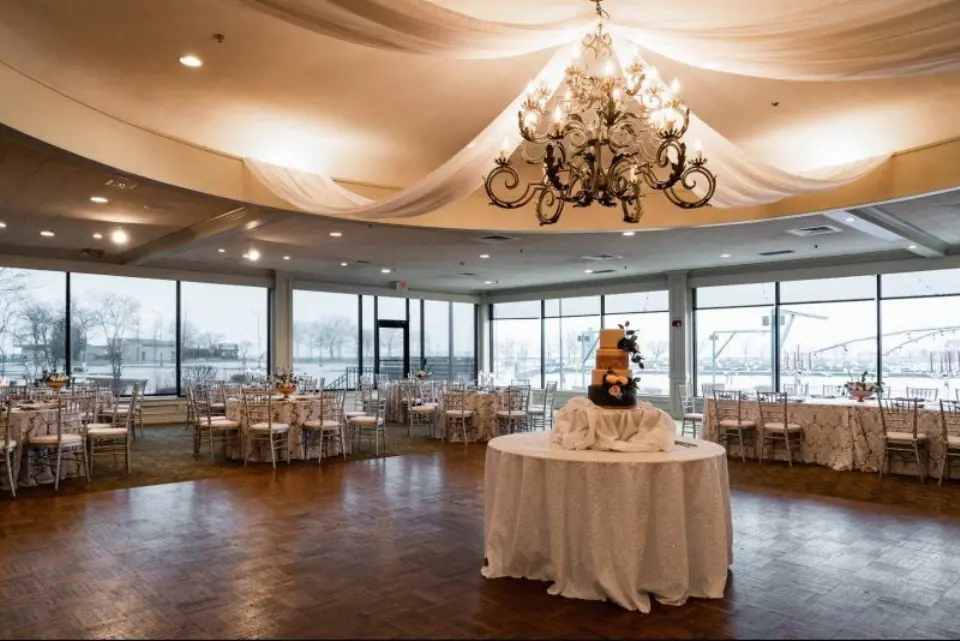 Located at the coast of the Erie Basin, Templeton Landing is an exciting wedding venue offering spectacular views. Their event spaces are available all year round and can host from 20 to 400 guests. 
You can choose one of their indoor spaces in winters that offer panoramic views of the waterfront outside or opt for the outdoor decking area for a breezy, cool wedding in the summers. 
Their seasoned caterers can prepare a variety of cuisines for a buffet, family-style, cocktail, or plated feast. In addition, their professional staff can meticulously handle all aspects of your wedding, making it as enjoyable for you as for your guests.
Address: 2 Templeton Terrace, Buffalo, NY 14202
Phone: 716-852-7337
Facebook: Templeton Landing Restaurant & Events
Instagram: Templeton Landing Restaurant & Events
---
Contact : Carol Tallichet
Contact :
Carol Tallichet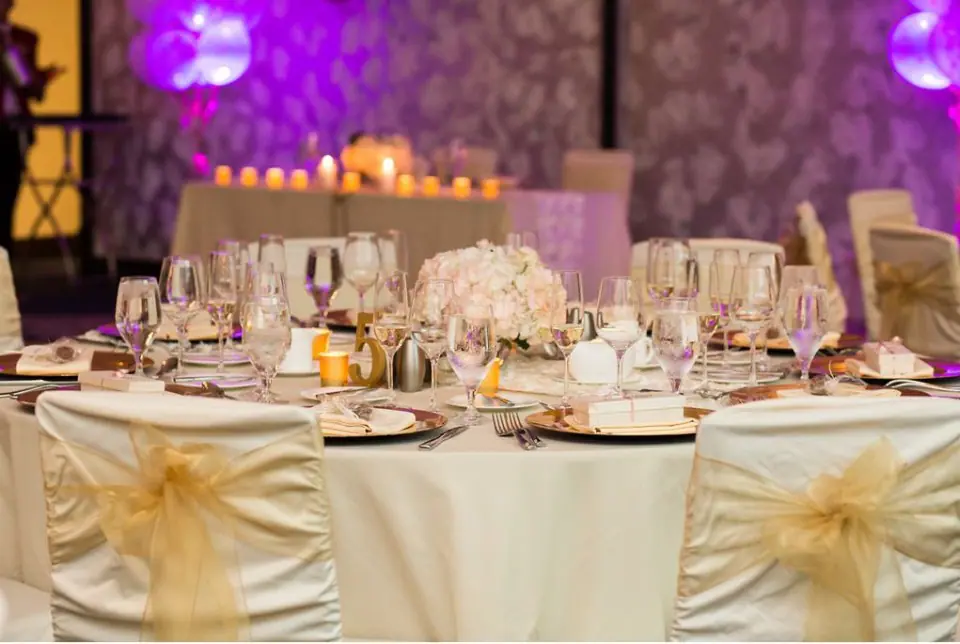 Buffalo Marriott is a hotel wedding venue located in LECOM HARBORCENTER, offering scenic views of the waterfront. This multi-purpose venue offers around 6,000 sq. ft. event space and six event rooms.
The Pan-American Ballroom is the largest that can accommodate up to 200 guests in a banquet-style reception. Their certified wedding planners work hand-in-hand with you down to the last detail to ensure a flawless experience.
Furthermore, their catering team is no exception. Overall, they are experts at preparing mouth-watering cuisines that can please the most distinguished of palates.
Address: 95 Main St, Buffalo, NY 14203
Phone: 716-852-0049
Facebook: Buffalo Marriott at LECOM HARBORCENTER
Instagram: Buffalo Marriott at LECOM HARBORCENTER
---
Contact : Huseyin Taran
Contact :
Huseyin Taran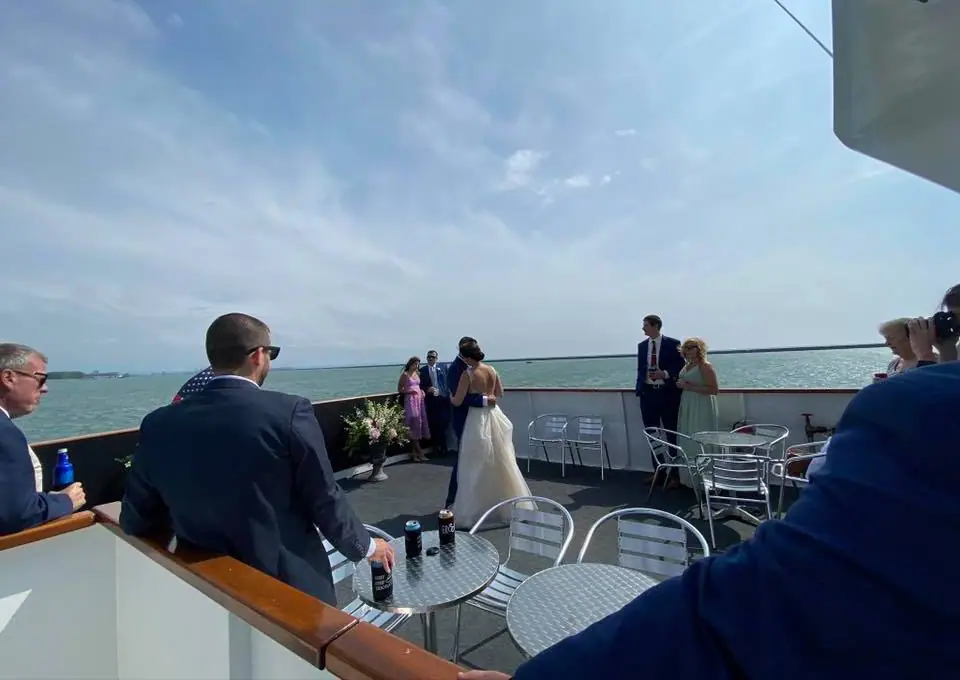 Stand out from the crowd. Tie the knot in the Grand Lady Cruise and turn your wedding into an exciting celebration onboard. Imagine saying your 'I Dos' under the blue sky with your eyes reflecting love as deep as the waters around.
Whether you want to host a rehearsal dinner, a ceremony, a reception, or both for up to 100 people, you are in for the most thrilling wedding experience.
With over 20 years of experience, see how effortlessly they transform your wedding vision into reality. The Grand Lady's top-quality amenities, climate-controlled cabins, and splendid furnishings coupled with excellent food and services.
Address: 359 Ganson St, Buffalo, NY 14203
Phone: 716-873-4630
Facebook: Grand Lady Cruises
Instagram: Grand Lady Cruises
---
Contact : Rick Deegan
Contact :
Rick Deegan
500 Pearl is a newly transformed wedding venue in Buffalo that is dramatic, romantic, and historic. Constructed during the 1900s, this Italian architecture-inspired venue has been recently renovated for the twenty-first century.
500 Pearl has not one but several event spaces that can accommodate gatherings of different denominations. Whether 220 guests in the Grand Aeries or 80 in the 1914 Room, they understand that each event is unique and singular. Their personalized services and exclusive in-house catering truly reflect this belief.
Furthermore, their services include a custom ceremony arch, complimentary guest room for the couple with 10% off on rehearsal dinner or bridal shower, among others, and they are happy to accommodate outside vendors as well.
Address: 500 Pearl St, Buffalo, NY 14202
Phone: 716-849-7280
Facebook: 500 Pearl
Instagram: 500 Pearl
---
Contact : Samantha
Contact :
Samantha
Avanti Mansion is a 19th Century estate that uniquely marries old southern charm with contemporary amenities. It is a complete wedding location with ample spaces for ceremony and reception that can host up to 275 seated guests.
Begin your big day with an outdoor ceremony in the Ballroom Garden, Japanese Garden, or the Library Courtyard. Otherwise, go for a cozy, indoor ceremony in The Library. Then choose either of their three receptions venues – Amore Ballroom, The Garden, or Amore Library – and treat your guests to an unforgettable celebration. 
Their wedding packages include everything you have ever wanted, from event planning and decor to catering and rentals, and everything in between. Have a luxurious time at their 27-acre property where perfection is possible.
Address: 4409 South Park Ave, Buffalo, NY 14219
Phone: 716-822-6200
Facebook: Avanti Mansion
Instagram: Avanti Mansion
---
Contact : Dave Clark
Contact :
Dave Clark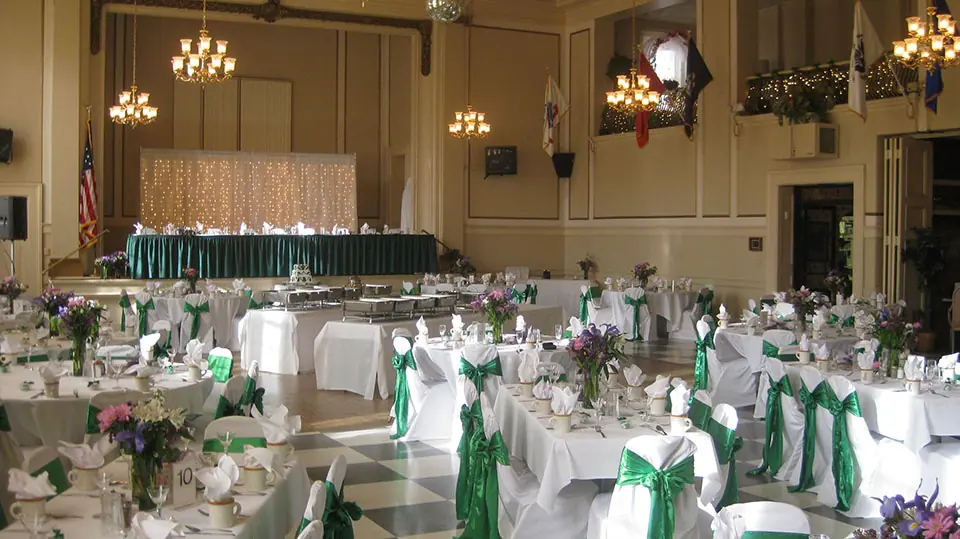 Host your extraordinary wedding at the historic Hamlin House, located in the heart of Allentown District. The Hamlin family built this impressive Italianate-style mansion in 1865, and the restored splendor is a top wedding venue in Buffalo, New York. Soaring ceilings and a grand stage are just the beginning. Take advantage of the Victorian-theme bridal suite to prepare for your big day and stunning photographs. Multiple food packages are available, including custom buffet dinners, carving stations, and sit-down menus. The helpful staff will serve your wedding cake at no extra charge. You can also order complimentary crisp-pressed linens. Ask about chair cover rentals to pair with your decor.
Address: 432 Franklin St, Buffalo, NY 14202
Phone: 716-885-8084
Facebook: Hamlin House
---
Contact : Hamlin House Team
Contact :
Hamlin House Team
Conclusion
When it comes to weddings, the "where" matters as much as the "what." Since there are tons of beautiful wedding venues in Buffalo, we didn't want you to become overwhelmed.
So, we hope we have made the 'where' part more digestible and stress-free with the list above. We want you to enjoy your planning process so that you can save your energies and excitement for the day that truly matters. You're Welcome!
Venues in Regions Near Buffalo
Is your business featured in this article?
Copy the code below and place the code on your website to display the badge award on your website.