Top 10 Wedding Caterers in Charlotte, NC
As soon as you book your wedding venue, it's a great idea to lock down your wedding caterer as well. Some venues provide in-house catering where you consult directly with the venue coordinator and caterer to finalize your wedding day menu and organize tasting, resulting in reduced stress.
However, if you're in charge of choosing a wedding caterer in Charlotte on your own, consider going through this post. Here, you will find a list of 10 professional wedding caterers in Charlotte, North Carolina.
Best Wedding Caterers In Charlotte
Delectables by Holly is the catering stop for higher expectations based in Charlotte, North Carolina. Founded by Holly McLelland, they have been providing fine catering services for weddings and other events for years. It's a thoughtful catering service that excels at crafting 100% custom menus for each bride to execute her personal style, taste, and budget flawlessly. Whether you want shrimp & Swiss cheese grits, peppered beef filet with savory horseradish sauce, or vegan lasagna, they have something for everyone.
Address: 901 Berryhill Road, Suite A, Charlotte, NC 28208
Phone: (704) 342-4800
Social: Delectables by Holly
Profile: Delectables by Holly
---
Contact : Holly
Contact :
Holly
SMS Catering Services has been catering in Charlotte, NC, and nearby areas for over 40 years. They are the complete caterers in Charlotte, offering several catering services for weddings and other events. Their caterers specialize in more than just food as they pride themselves on providing clients with the most innovative catering experiences. No matter your taste, they have an extensive collection of menus that include everything from upscale dishes to homemade NC BBQ. Moreover, they are known for their exclusive NC BBQ catering, large banquet hall, and being able to offer fresh, on-site cooked food with mobile kitchens.
Address: 1764 Norland Rd, Charlotte, NC 28205
Phone: (704) 536-1500
Social: SMS Catering Services
Profile: SMS Catering Services
---
Contact : Bob
Contact :
Bob
Since 1989, Best Impressions Caterers have been working with brides and grooms to turn their wedding vision into reality. The company operates as 4 distinct catering divisions: Best Impressions Caterers, The Grill & Picnic Company, The Terrace at Cedar Hill, and Byron's South End. They have made a reputation in the industry for their delicious cuisine, creative presentations, and impeccable customer services. The team can guide you through the catering process by creating a custom menu tailored to your taste and vision. Their chefs are devoted to using the freshest & finest ingredients and skilled techniques to prepare delectable meals for a fine-dining experience.
Address: 2600 Youngblood St, Charlotte, NC 28203
Phone: (704) 333-9779
Social: Best Impressions Caterers
Profile: Best Impressions Caterers
---
Contact : Dave
Contact :
Dave
Specializing in weddings and other grand celebrations, The Southern Gourmet is a professional, full-service catering company in Charlotte, North Carolina. Randy and Crystal Provance, the husband and wife team, have more than 25 years of hospitality and food & beverage service experience. No matter your wedding size or theme, the entire venue will be staffed with professional chefs, station attendants, bartenders, and servers. The team can guide you through finalizing your wedding menu and choosing china & linens to leave a lasting impression on guests. Check out their wedding menu on their website for more details.
Address: 9101 Monroe Road Suite 110, Charlotte, NC 28270
Phone: (704) 849-7646
Social: The Southern Gourmet
Profile: The Southern Gourmet
---
Contact : Randy
Contact :
Randy
Andrew Matroni started QC Catering in December 2010 with just four employees. Since then, they have expanded this business to more than 40 full-time staff members with constant hard work and dedication. They work with couples to help them craft custom menus, depending on their needs and budget. All the dishes they serve to your guests are cooked with locally sourced produce and farm-raised sustainable meats. The entire team is committed to being with you by delivering personalized service, fresh food, and striking presentation. No matter your needs and budget, they offer drop-off, limited service, full-service, and wedding catering to meet all your desires.
Address: 601 Calvert Street, Charlotte, NC 28208
Phone: (704) 305-7778
Social: QC Catering
Profile: QC Catering
---
Contact : Andrew
Contact :
Andrew
Roots Catering strives to deliver the absolute best in locally sourced food in Charlotte, NC, for weddings and all types of events. Their chefs prepare the food with the utmost care, creativity, and attention to detail to offer the highest customer service level. The team can help you design, create, and execute an exceptional culinary experience with hands-on management expertise. They also provide linen & rental coordination, breakdown & set up services, and bar & beverage services. Book them to leave an unforgettable impression on your guests with custom catering options.
Address: 3410 ST Vardell Lane, Charlotte, NC 28217
Phone: (980) 495-6454
Social: Roots Catering
Profile: Roots Catering
---
Contact : Craig
Contact :
Craig
Tara Quinones is an award-winning caterer throughout Charlotte, famous for creating customized menus depending on your budget and palate. She talks to every couple in-person to discuss meal ideas, particulars of the event, and craft striking menus for their big day. She is best known for cooking comfort food, American food, catering to themed weddings, and her culinary expertise in cooking Latin food. Pick Catering By Tara as your caterer and let them turn your wedding from plain to extraordinary with their innovation and culinary expertise.
Address: Charlotte, NC
Phone: (704) 492-3791
Social: Catering By Tara
Profile: Catering By Tara
---
Contact : Tara
Contact :
Tara
Maxwell Catering has been offering the best catering services in and around Charlotte for over 25 years. They offer several menu options to fit any taste, style, and budget, ensuring your guests will remember your wedding food for years to come. From regional favorites to upscale dishes, their professional chefs leave no detail unattended to offer the best experience. Equipped to manage all size weddings, their team can provide you with an exceptional experience and ensure to make your big day a hit for the guests with exotic, flavorful food.
Address: 9545 Pinnacle Dr., Charlotte, NC 28262
Phone: (704) 605-3881
Social: Maxwell Catering
Profile: Maxwell Catering
---
Contact : Lisa
Contact :
Lisa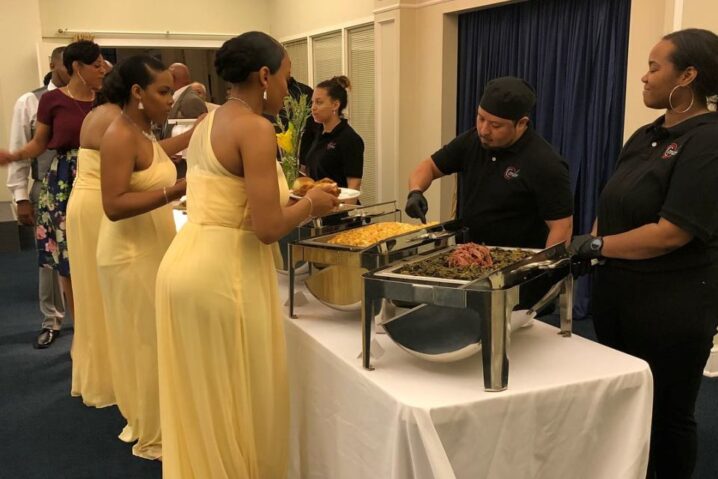 Catering by Cordrè is a team of professional chefs who work together to meet couples' visions. Manuel Cordrè is one of the most talented and creative chefs in Charlotte. The team's culinary passion and enthusiasm not just reflect in the flavors of every dish they present, but you can also analyze it through the services and experiences they deliver. They offer tasting for up to four guests; you can reserve tasting depending on your final menu selection. Moreover, talk to Briana Matthews, their wedding & event coordinator, to schedule your tasting.
Address: 3500 Latrobe Dr., Charlotte, NC 28211
Phone: (704) 412-4048
Social: Catering by Cordrè
Profile: Catering by Cordrè
---
Contact : Manuel
Contact :
Manuel
Founded by Amanda Hood, PB&J's Catering is a premier wedding & event catering company based in Concord, North Carolina. Since their establishment, they have been giving their best to meet and exceed couples' varying expectations throughout North Carolina. Amanda has assembled a team of professional chefs, trained servers, and other people who work together to plan and execute every wedding. They can also accommodate your and your guests' dietary needs, including nut-free, lactose-free, gluten-free, vegetarian, no pork, and organic. Browse their extensive menu options to pick the right one for your wedding day.
Address: 96 Church Street N., Charlotte, NC 28025
Phone: (704) 699-6996
Social: PB&J's Catering
Profile: PB&J's Catering
---
Contact : Susan
Contact :
Susan
Conclusion
Every vendor you hire for your big day must be a good fit for your personality, style, and budget. The same goes for the wedding caterers. These are the top 10 trained and experienced wedding caterers in Charlotte you can rely on. Hire any of them and let their professionals ensure that all of your guests are well-fed.
Is your business featured in this article?
Copy the code below and place the code on your website to display the badge award on your website.